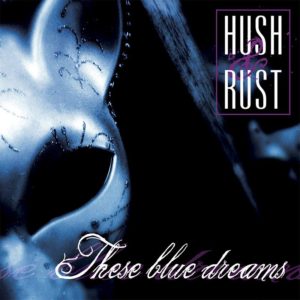 Covering bands and reimagining songs is nothing unusual, though for Canada's Hush and Rust, they've made a promising career out of it. Meeting as teenagers while having spots in a percussion ensemble, members Rob Greenway and Tracey Coveart, would be in touch until their 20's when their paths went separate ways. Getting back in touch in their 40's, the two married and that is when their musical partnership began.
Wanting to create a Christmas gift for Coveart's father, the couple began playing music together, with Tracey discovering an untapped talent for singing. Now the husband and wife team have released their new album These Blue Dreams, while getting their friend and collaborator Cam MacInnes to join them.
Reimaging classic tunes is no easy task, but instead of just messing around with time signatures and arrangements, Hush and Rust has made 11 classic songs entirely their own. Opening with the Fats Domino hit "Blueberry Hill," the track is turned from an early rock hit to a slow ballad that has a country spin. Creating a dreamy vibe is the style that Hush and Rust are into and with Coveart's voice being the centerpiece of the track, we can't help but enjoy this interesting cover.
"Ring of Fire," originally performed by outlaw country artist Johnny Cash is perhaps These Blue Dreams' biggest departure from the original due to its tempo and style. Originally recorded as an energetic foot stomping song, Hush and Rust has slowed things down and brought in their own vision. While different, their audience won't be able to get the original out of their heads, making this song a weak choice to include on the record.
The seventh song on These Blue Dreams is "Your Cheatin' Heart" originally sung by Hank Williams, is the first track that features lead vocals from Rob Greenway. The edgiest track on the record with its lively style, the change in tempo is welcomed as the band dives into new territory, as they not only cover the song, but they also showcase more of their abilities as musicians.
Tracks such as "Across The Universe" originally done by The Beatles, has of course been done before, and it would be interesting to see why the group chose this particular track over another Beatles number that might not be as widely covered. The LP's closing song is "Tonight You Belong to Me" written by Billy Rose and Lee David and originally performed by Gene Austin, is largely in the same time signature as previous songs, and while the band focuses on a putting their audience into a dreamy state, the end result starts to feel boring, leaving their audience feeling like they could have experimented more with time signatures, since their creative minds can truly run wild once making the decision to cover a particular song.
While some songs are stronger covers then others, we look forward to hearing what Hush and Rust put out next. Will they keep releasing cover albums or will they do something entirely original? We hope it's a little bit of both.
You can watch the music video for "Blueberry Hill" below.