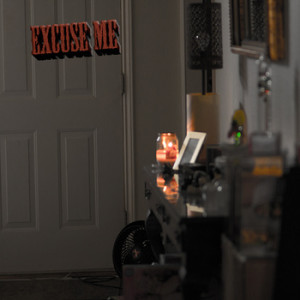 Excuse Me, the latest album from Florida musician Joe Blessett, is an interesting album that intertwines different genres to create something truly unique that we don't hear very often. While Blessett has been playing music since he was young, he currently wears many different professional hats which include engineer, entrepreneur, music producer, and composer. While he spends most of his time developing his different talents, when it comes to his musical goals, he hopes that his songs will never see an expiration date.
Excuse Me's opening song, the records title track, is an intro that starts with a piano and a conversation between friends. While the track doesn't exactly set up Excuse Me, it's a great representation of the records quirkiness, as it combines different sounds to create something that is different from what we would normally hear from artists in Joe's "genre." The next track "Paying Bills" is a jazzy hip hop inspired track that also injects hints of funk into Blessett's tunes with a warm slap bass that can be heard over Joe's smooth rapping. The scattered sounding drums also give the song a nice texture, giving the tune a jazzy feel. "In The City" is a more relaxed track that has a pop sound with some horns thrown in. Inspired very much by John Coltrane, Blessett takes this influence and really uses it to define the track and its sound.
The record ends with "Athene's Theory", an 80's sounding tune that heavily relies on synthesizers for its sound. While no track sounds the same on Excuse Me, each one has its own distinct personality that flow together well, and while it might not be the right album for everyone listening, it certainly has found its place among more unique sounding albums.