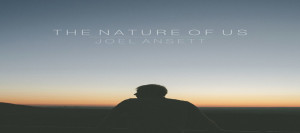 Denver's Joel Ansett is on his way to becoming one of folk music's best new artists, with his latest album The Nature of Us. Full of chill pop and folk songs mixed with drops of R&B, Ansett is readying himself for much success within his genre and possibly outside of it, as his ideas expand beyond the predictable path that folk music can often take. After raising over $25,000 through the crowd funding platform Kickstarter to fund his current release, Joel has paid his fans back by putting his heart and soul into his album, and after listening to the record once, we are thoroughly convinced of its freshness, which will lead his audience to become instant fans if they aren't there already.
"Kingdom Come" starts the release with pop sounds, pleasing vocals, and finger snaps that set the stage for what's to come. Rounded out with warm horns, Ansett introduces us to his flavorful influences right from the beginning. Showing off a slight R&B angle, "Kingdom Come" is the right song to open the album as it introduces music fans to one of Colorado's best up and coming singer-songwriters, as the track has the potential to become a huge hit.
"In The Eye" brings us back to the pop feel that sounds similar to popular acoustic guitarist Jack Johnson, conjuring up visions of warm summer days as the cold weather becomes more regular. At this point, nothing feels or sounds better than Ansett's music, as each song is perfectly written, with Joel knowing exactly how to pull his audience in with his calm acoustic guitar, glimmering vocals, and relatable songs. The next song "Tragedy Is Not The End" is a slightly darker ballad that gives a more somber angle to the music, though this doesn't deter our liking for Ansett's more uplifting and gorgeous tunes. Regardless of its sound, each song on Nature is suitable for many of life's experiences, making Joel a universal musician.
To end The Nature of Us, Ansett has chosen "Kings & Queens", an acoustic track that radiates with positivity. Beautifully written, we want to hear more from Joel, as his level of songwriting and talent does not come around enough. While he may not be releasing any new music soon, The Nature of Us will certainly keep us interested in his songs for quite awhile, as we haven't finished relishing in the likeability of his latest work.
You can listen to a selection from the album titled "Already In Love" below.