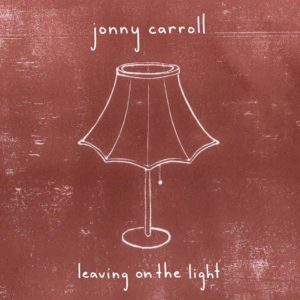 2016 has been a year for great pop records, and Michigan's Jonny Caroll is rising up with his new EP Leaving On the Light, a seven track release inspired by a broken engagement. Spending his early life busking on the streets of West Michigan and on the streets of England and Scotland, Carroll has plenty of life experience under his belt which comes through in his music, with a genuine and honest release that connects with his fans. Opening with "Painted Jars," the EP introduces us to Jonny's relaxed and humble music, and as he strums his guitar, he invites his audience into his memories of being in love, while also tapping into what it's like to be on the brink of a lifelong commitment. While Jonny pulls at the heartstrings of his listeners, he is also a fantastic pop singer whose songs remind us of Jason Mraz.
"Leaving On the Light" is the EP's title track and is the first song that makes an impression, with a country sound and a chorus that is ambitious and bold. Released as the EP's first single, the track has a way of getting stuck under your skin, where we remember each note and the way Caroll sings. With a voice that fits the current pop landscape for acoustic artists, Caroll will not have a hard time finding fans as his songs present an immediate hold where we don't forget about him.
"Joshua" is Leaving On the Light's seventh and final track and its soft acoustic strumming allows Jonny to showcase his vocals, while his lyrics let us feel the weight of his words. Coupled with a beautiful violin part that gives "Joshua" a quiet beauty, Jonny Carroll has written a soulful and telling EP all while flying under the radar. While Jonny has been getting his name out across England, we hope that The United States will welcome Jonny soon, as his home country needs to know his name. 
You can check out the song "Painted Jars" below.