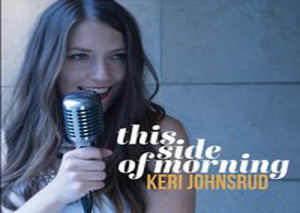 This Side of Morning by Chicago jazz singer Keri Johnsrud is an expressive and breezy record that smooth jazz fans will adore, and jazz purists will love for its feeling and vibrant musicality. Being a part of Chicago's jazz scene for 15 years, Keri grew up in Iowa in a musical family with parents who loved jazz while also being exposed to the music of the 1980's, such as Hall and Oates and Huey Lewis and the News. After graduating from college, she moved to Chicago where she continues to perform and teach.
Johnsrud's latest release opens with "From Here", a quietly convincing tune that illustrates not only Keri's talent, but also the abilities of the musicians performing alongside her. While the track has a very mellow sound, each musician dresses up the song to make it a pleasurable one to listen to, as Keri sticks to the roots of jazz and shows off her passion for the tracks she writes.
Next, is "Everything's Okay", a quiet tune that allows us to breathe and forget our worries. As we focus on Keri's voice, due to the track's minimal sound, we really get a chance to hear just how wonderful Keri is as a vocalist. It's obvious that she has taken the time to really perfect her performance and ability to play her preferred genre. As the guitarist plays a delicate riff, "Everything's Okay" takes us away and lets us escape, as good music should do.
"Your Way" begins with Keri singing and a quiet piano part that envelopes the listener, as Keri glides through the song almost effortlessly. While the track has very much the same sound as the rest of the record, this tune has enough spice to make us want to hear more.
"The Chameleon" closes out This Side of Morning, and on this particular cut, Johnsrud adds in a touch of funk to give the music some versatility, something that the album lacks throughout. While there were moments where we felt that Keri could of taken a few risks with her songs, on "The Chameleon" we know that she is capable of taking them, as she briefly introduces us the possibilities of where her music could go if she were to explore music outside of jazz.