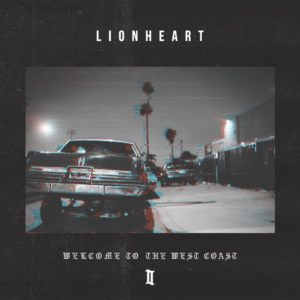 After a brief hiatus in 2016, Northern California hardcore band Lionheart is back with their new LP Welcome to The West Coast II, a 25-minute hardcore record that gives unfamiliar music fans an introduction to the greatness of California music. Opening with "Cali Stomp," those not familiar with Lionheart's intense and brutal sound, will be instantly hooked by the end of the nearly two-minute track. With drummer Jay Scott directing the music with heavy bass drums and a biting snare drum, hardcore fans will be excited by the bands thunderous execution of the album's emotion and energy.
"Trial by Fire" is a nail biting song that puts guitarists Nick Warner and Evan Krejci center stage as they play shredding riffs with emotion so raw you'll be pushing the repeat button. Bassist Ricky Matthews also plays a bassline that is on par with the rest of the rhyme section, creating a tightly wound song that is was ready to blow up at its start. "Tracks such "Vultures" is another stand out tune that fans will love as vocalist Rob Watson screams with an intense growl. While the group may have gone on a short hiatus in 2016, the bands obvious love for music is expressed well on Welcome to The West Coast II and it's a good thing that they didn't stick to normal careers after they went on hiatus.
Ending with tunes such "LHHC '17" the group has a passion for their hometown and region that rings loud and clear through their music. While Lionheart may be a small band from Sacramento, Welcome to The West Coast II will bring them not only new fans in the California music scene, but new fans all over the country and overseas, leading them to become well known in their genre.
Watch the music video for "Trial By Fire" below.