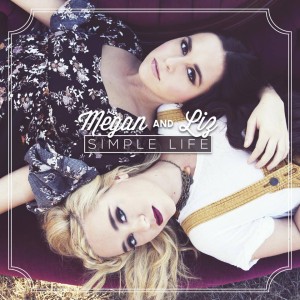 The Simple Life EP by twin sister duo Megan and Liz is a fun EP that takes on a more serious direction than their previous work, while still maintaining the catchiness that made fans stick around. Megan and Liz, who are fraternal twins from Michigan, got their start on Youtube in 2008, when they posted a video singing an original song called "This Note" when they were fifteen. The twins now reside in Nashville. Since 2008 they have posted over two hundred videos. Their first EP This Time was released in 2012, followed by Bad For Me also released that same year. While both of these EP's were summary pop albums perfect for teenage girls, Simple Life has a much more mature direction, now that Megan and Liz have entered their twenties and changed their musical style. While the duo still has a young feel to their music, both sisters sing beautifully and Megan's guitar playing is decent for their short time in the spotlight.
The album's opening track "Simple Life" has all of the makings of a great country single, much like many of the songs you would hear that are currently coming out of Nashville. The twin's harmonies are great, and the refreshing aspect of their voices is that they don't try to sound like they are authentic country singers. Their vocals are naturally beautiful with no twang to be heard, and in a genre where singers try to replicate the country twang even when their roots are far removed from the American south, Megan and Liz's simple country tunes breathe a new life into country music, which these days can sound dangerously overdone due to its pop influence. "New At This" brings back the pop elements that made Megan and Liz enjoyable in the first place, and the song which focuses on life discovery, proves that they can play more than just the serious country songs that make up the first half of Simple Life. "Switch Hearts" is a soft pop ballad that is the EP's weakest track. While it talks about switching hearts with someone in a relationship, the song sounds generic and does not offer the best example of the twin's songwriting.
"Grave" the EP's last track is a slow song that would be a great choice for a single. The chorus is a catchy one that includes an organ and a reggae sounding guitar riff, while still not forgetting their country leanings. While Megan and Liz got some buzz last year for making an appearance on Plug In Stereo's song "To Be Wanted" on his Little Peace EP, Megan and Liz still have a bit of maturing to do if they want to have longevity in music, however if they continue to sharpen their skills they will have no problem making music a long term career.