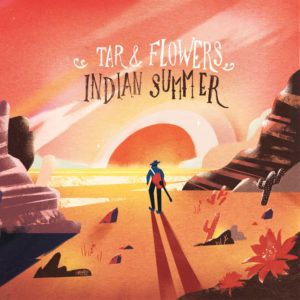 Described as "Los Angeles Americana," Tar & Flowers has released a nine-song album titled Indian Summer that takes you back to summer's past while also relishing in the current season. Opening with the track "Danny," the band pulls their audience in as Taylor Hungerford, the group's front man, provides beautiful melodies alongside bassist Wolf Kroeger. Songs such as "Ten Ton Heart," are reminiscent of older groups such as The Byrds and Gram Parsons, giving Tar & Flowers a sense of timelessness. Also a breezy track, the song has light country influences, while keeping with Indian Summer's colorful and soulful sound.
While each tune on Indian Summer has its strength's, it is cuts like "Opium," where the album starts to come together, and we really see how strong Tar & Flowers songwriting is. Taking listeners away with acoustic guitar and Hungerford's soothing vocals, its one of those songs you'll be adding to your playlists as soon as it's over.
Ending Indian Summer is "The Lovin' Kind," the LP's best track. Adding steel pedal on this song, performed by Vern Monnett, the song has an escapist feel that is the perfect closing track for Tar & Flowers latest effort. While we never wish summer to end, with numbers like "The Lovin' Kind" we are grateful that we have an excellent soundtrack from this fresh Los Angeles act to make the days go by a little slower.
Listen to "The Lovin' Kind" below.