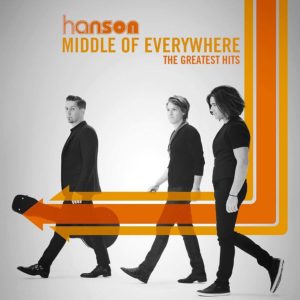 In 1997, three brothers from Tulsa, Oklahoma burst onto the mainstream music scene with an indelible hit called "MMMBop", going to number one in 42 countries." Taking their last name as their moniker, Hanson released their major label debut Middle of Nowhere in May of that year with plenty of praise from music critics, followed by the adoration of teenage girls all around the world. While "MMMBop" would bring the trio major fame for only a short period (they would go on their only arena tour The Albertane Tour in 1998,) the band would march on playing music, despite declining fame and record sales. In 2000, with the group signed to Island Def Jam, they released one of their strongest albums to date This Time Around, to positive reviews, while realizing that their small but loyal fan base were going to be Hanson fans for the long haul.
17 years later, the group has set off on the American leg of their Middle of Everywhere Tour, celebrating the bands 25th year (they formed in 1992.) Middle of Everywhere – The Greatest Hits, the group's first greatest hits record, is a decent look at the band's career, spanning from 1997 to 2017, with the inclusion of "I Was Born," the standalone single that was released several months ago. While The Greatest Hits doesn't span the entire existence of Hanson (they released a few independent records before going mainstream,) the nearly two-hour track list will satisfy fans who never went away and is a good introduction to anyone just jumping on the train. Perhaps, one day the group will release a box set including the records that the brothers have chosen to omit from this collection.
Opening with "I Was Born," Hanson gives fans a sample of new material, which several outlets raved about upon release. While the track is a strong one, it would sound more fitting towards the end of the record due to being a new song, and as it glides effortlessly into "MMMBop," throwing listeners back to the late 1990's, fans will get major nostalgia. After listening to "MMMBop" we realize not only just how far the band has come, but also how rare it is that a band of brothers have been around for over two decades without wavering, particularly since they only had one major hit.
After a few more songs off Middle of Nowhere, the band dives into This Time Around released in 2000, a record full of hard work, dedication, and excellent songwriting. Released when drummer Zac Hanson was only 14, its clear the band had chops, and after middle brother and pianist Taylor's voice deepened, the group was finally writing songs that would allow them to be taken seriously. 2004's Underneath is next, and while it may be the trio's weakest LP in their discography, on Middle of Everywhere, the band has chosen to include gems such as "Penny and Me" and "Lost Without Each Other," two tunes that gave the band commercial appeal during a slump that nearly broke the band as they struggled to get the LP released on Island Records, due to the company's lack of enthusiasm for Hanson's rock influenced sound.
Beginning the collection's second disc is "Great Divide" off 2007's The Walk. While Hanson likes to keep fans waiting between records, with a period of three to four years between each, the five solid songs from Underneath showed that the band was back in full force, releasing some of the best songs they've ever written. With tunes such as "Been There Before" and the dreamy "Georgia," this portion of the album is one of the best, illustrating the bands immense growth over their career.
Last, we have the records Shout It Out! (2010) and Anthem (2013,) and while each release had stand out tracks, both left a lot to be desired. Though despite this, this LP managed to highlight each member and their strengths, including the Zac led "Juliet" (from Anthem) which focused on his vocals, and "Fired Up," another Anthem jam that zooms in on not only the brother's older influences, but their sense of harmony and musical instincts, which often went ignored by mainstream record labels. Ending with "Already Home," it's somewhat of a blah ending to a 25-year collection. While some of the tracks included were never singles, Middle of Everywhere – The Greatest Hits illustrates what the band does best – write songs that may not be for everyone, but for those who get it, they savor every note, as Hanson has always sounded wise beyond their years.
Watch the music video for "I Was Born" below.