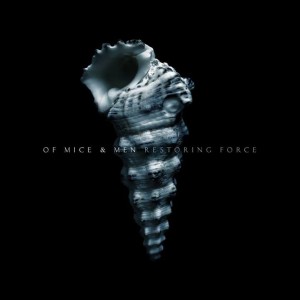 With Restoring The Force, California metalcore band Of Mice and Men set out to be as abrasive as possible. The southern California band formed in 2009 after lead singer Austin Carlile departed from electronic-metal band Attack! Attack!.  On Of Mice and Men's last album The Flood released in 2012, the band had a more melodic feel to their sound, focusing on softer guitar solos and intros, while Restoring The Force is more in your face and harsh sounding. Drawing comparisons to Phoenix metal band The Word Alive, Of Mice and Men focus heavily on rhythm, bringing the drums to the forefront, while still giving the guitars a more heavy sound.
Songs such "Bones Exposed" is a fast and intense song that sets the pace for the band's new sound. Austin Carlile's growls and harmonious vocals change frequently throughout the song, showing his wide vocal range. Guitarists Phil Manansala and Alan Ashby prove that the band still wants to retain its harder edge, with a guitar solo that is punchy and energetic. The one song that totally abandons their metalcore roots is the last song "Still Enough Space To Grow" which is a short acoustic track with singer Austin Carlile enveloping the listener as his vocal performance is beautiful. While his voice sounds a tad one dimensional and uncharacteristic for the band given their previous work, "Space Enough To Grow" provides even more questions from older fans about what direction the band could go in for future albums.
"Would You Still Be Here" is the song on the album that adds a dance vibe to the album. Holding back on the screaming, Austin, and bassist Aaron Pauley actually sing, and the song is a nod to mainstream hard rock bands. This song would be good for their next single since it has an appeal that extends beyond their young fan base. Drummer Valentino Arteaga shines on the track as he carries the song with a mixture of double bass drum and simple drum beats to give the song a more musical feel.
Lastly, "Another You" establishes that the band has a very artistic presence with their music. Restoring The Force gives their fans many twists and turns in their songs, and while they are finding their way with a slower sound, the band is determined to stick to their roots as a metal band that will only get better with time.