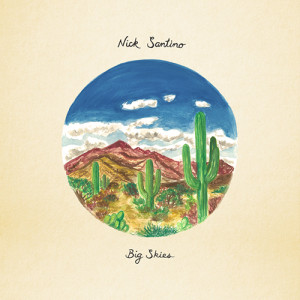 Big Skies by former A Rocket To The Moon front man Nick Santino is one of the best and most carefree records you will hear all year. Front the opening notes of "Bad Taste" the albums first track, we hear a simple and relaxing rock and roll tune. Santino's voice is calm and in certain pockets of the song, beautiful, and the album is a turn for the best after Santino's former band A Rocket To The Moon decided to call it a day. The bands pop punk sound was a catchy one, but it didn't have the same pop sensibility that Big Skies does. Santino began his music career in 2006, when he formed Rocket To The Moon purely as a musical experiment, with the help from Phoenix rock band The Maine who helped him find members to assemble his new band. The band would release only two albums On Your Side in 2009, and Wild and Free in 2013, with the band disbanding that same year. As a solo artist, Santino has released three EP's called Going Home (2013), The Ones You Meet Along The Way: A Collection of Stories From The Road EP (2013), and Live In Sao Paulo EP in 2014.
The album's second tune "Can't Say I Miss You" is a more upbeat track with a slight country bent, which is possibly influenced by The Maine, who have taken on more of a 1970's rock vibe, with a slight country edge in their own music. The tunes more bare bones feel would work well as a single, as it is catchy enough to get people's heads bobbing, but it is not overwhelming in sound, as it allows you to hear all of the instruments in the mix, making it feel like the song isn't missing anything. "It Is What It Is" is going more towards old fashioned country, sounding reminiscent of Jonny Cash. When listening to Big Skies, it is clear that the record has plenty of ambition, as it tries to make itself feel like it is something you haven't heard before, and it never gets over the top. Santino and the rest of the musicians who perform on the record know exactly what they are doing, and their talent is incredibly evident.
"Long Way Home" which features John O'Callaghan, front man of The Maine on backing vocals, is another relaxed rock tune that is wonderfully composed. The guitar riffs in the song are simple, and they round out the song perfectly. The album's last track "She Don't Miss Me" is a slow track where we hear Nick singing over a soft guitar about a girl who left him, allows the the lyrics tell a great story.
If Nick continues down the path he is on, he will have no problem carving out a career for himself without his former band mates as he has enough talent to stand out on his own.