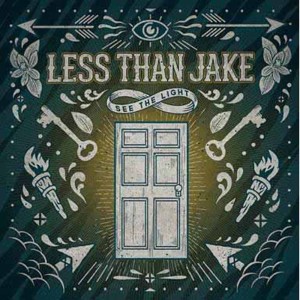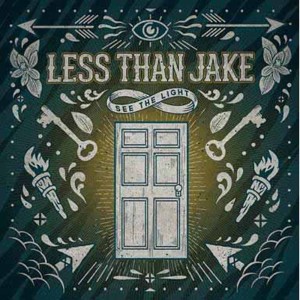 See The Light by Florida ska band Less Than Jake is the bands ninth album and their first since 2008 album GNV FLA (an abbreviation of the bands hometown of Gainesville, Florida.) Less Than Jake was formed in 1992, after the breakup of a band called Good Grief, which included future members of Less Than Jake. After guitarist Chris DeMakes moved to north Florida to attend college, he and drummer Vinnie Fiorello began writing songs together on the weekends. The band's name comes from Vinnie's dog Jake, who was treated better than the rest of his family, leading everyone to be thought of as "less than Jake." In 1995, with the release of their debut album Pezcore, the band was signed to Capitol Records which led to more exposure. In 1998, tensions between the band and Capitol Records began to arise over various issues including the label dragging their feet over releasing a video for "History of A Boring Town" on their 1998 album Hello Rockview. After getting out of their contract it would be many years before the band would gain a commercial hit. In 2003, their next album Anthem was released on Warner Brothers Records. It scored the band a major hit with "She's Gonna Break Soon."
Less Than Jake's latest album See The Light is a fun ska album that takes fans on somewhat of a walk down memory lane as the album features influences from each of their previous albums. Still featuring the bands trademark horns from Buddy Schaub on trombone and Peter Wasilewski on saxophone, the band is still releasing the same lovable party music that they have put out for the past eighteen years. While many bands can't do the same thing again and again without fans getting bored, Less Than Jake can still release music in the same style and keep fans content with their fun brand of horn heavy music. "Good Enough" the album's opening song is a punchy track that has a catchy beat and horn parts that keep the song rolling, much like bands The Mighty Mighty Bosstones or No Doubt. "John The Baptist Bones" sounds similar to the bands song "We're All Dudes" from the Good Burger soundtrack with its laidback feel, and a familiar horn part. "American Idle" is the most rock and roll song on the album. While the horns do not play a huge role, it shows that Less Than Jake are more than just a party band. "American Idle" shows off the band's playing skills, and that they still remain a tight group after almost two decades. "Jump" is a fast punk song that is perfect for starting a mosh pit, and shows off the band's punk edge, complete with speed, grittiness, and fun pop moments throughout.
On See The Light, the group has gotten better with their songwriting, and their lighthearted and fun music still remains fresh and relevant. As the band members continue to age, they show no signs of slowing down, and their fans continue to show devotion to them. See The Light is a sign of many great albums to come.