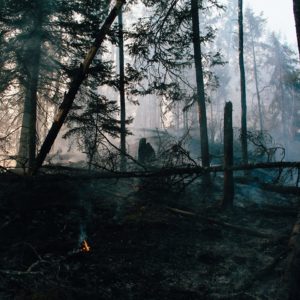 Alternative indie band Whale Bones from Bloomington, Indiana have a hit record on their hands with new full-length album Island Fire, released today. Releasing their debut effort The Seaside EP in 2014, fans got the first taste of the group's distinctive sound, intertwining hardcore, indie, and alternative influences to form something unique. After listening to Island Fire, it will leave you stumped as to why the group haven't made it big.
Opening with the release's title track, Whale Bones' hard-hitting sound is much like their debut in style, but it's their passion and fire for their craft that sticks out the most, with numbers that feel much stronger and memorable, as if the band could land themselves a spot in Alternative Press. The records sixth track, "Desperate Lie," is slightly faster in tempo and illustrates the bands heavy influences, while giving the song a slight pop flare. Drummer Paul Lierman and guitarist and vocalist Nathan Kane radiate with their musical chops on this track, making Whale Bones a great undiscovered and underrated band.
"Backyard," Fire Island's ninth track, has an acoustic rawness that is a nice change from the heavier tracks on the record. While it feels like Kane is still trying to figure out where he fits vocally, his finger picking style riffs glow with emotion that we can't help but love and internalize, making "Backyard" one of the LP's strongest tracks, and one that would make for great atmosphere at their live performances.
Closing with the nearly seven-minute tune, "The Warmth," we have a number that ends Fire Island on a high note. With a slow build up that starts "Warmth," the group has written an album that feels refreshing and memorable, and one that we can't recommend highly enough.
Listen to "Desperate Lie" below.