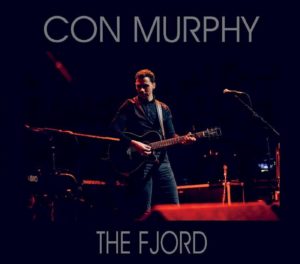 Releasing his new EP The Fjord last month, Mayo, Ireland singer-songwriter Con Murphy has dropped an EP that shows the talent coming out of Ireland, in addition to his songwriting chops. Like his fellow Irishman Ciaran Lavary who is dropping own album Sweet Decay later this week, Murphy takes listeners on a journey into his thoughts and feelings, introducing himself as authentic and raw.
Writing the EP in 2015 in Iceland, it opens with "Heavens Table," as Murphy gives listeners a taste of his spiritual views, making for an intriguing start, while sucking fans in from the beginning. Tracks such as "Patiently Wait," begins with an upbeat piano line that illustrates Murphy's vocals and his artistry, playing folk and pop in the vein of British band Mumford and Sons. On this song, his angelic voice sits well within the mix, adding him to a list of current singer-songwriters that demonstrate plenty of promise.
Numbers like "Don't Freak Out," is very much comparable to Bell X 1, a well know Irish act that is as famous as U2 in the small country. Keeping his pop flavor in this track, Murphy is convincing as a songwriter and musician. With the title track ending Murphy's debut work, The Fjord is a great debut, and one that provides great storytelling and memorable songs.
Listen to "Patiently Wait" below.