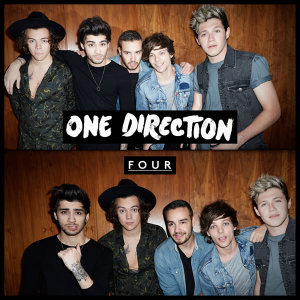 "She's been my queen since we were 16, we want the same things, we dream the same dreams, alright, alright" Zayn Malik sings in the opening verse of "Steal My Girl" on One Direction's new album Four. A song about keeping their fans all to themselves, "Steal My Girl" is the syrupy introduction to the band's new album and if you've been keeping up with their music over the past four years, the song could been seen as misleading. Serving as a bridge between last year's Midnight Memories and Four, "Girl" feels like the band is trying to hold on to their teenybopper roots, though the rest of the album is far from their teenage beginnings, since Four is filled with acoustic guitars, lyrics about getting older, and having sympathetic feelings for a girl who is holding you captive. "Steal My Girl" is the album's only flaw, and Four proves that the band is growing up, and that while they have adults on their mind, they don't mind if kids come along for the next chapter in the bands career.
One Direction got their start on the UK X Factor as five separate contestants in 2010, though the judges felt that neither member was good enough to progress as solo artists. Due to this, the five members were placed into a group to see how far they could go in the competition. They released their hit single "What Makes You Beautiful" in 2011 from their debut album Up All Night, and the record was full of typical teen pop music that marked the beginnings of a fad. The band had a clean cut image with every song centered on a girl, as well as every song sounding very similar. Critics felt that they would last a year, two at most. Instead of fading away, the band has now had three number one albums, two arena tours, one worldwide stadium tour, three movies, and music that continues to evolve every year. While 2012's Take Me Home incorporated more dance and stadium influenced rock music, Midnight Memories led them down the path of becoming a straight up rock band. A little bit edgier, with some Mumford and Sons inspired folk songs thrown in, One Direction became an atypical boy band, as the R&B inspired beats and trademark dancing was noticeably absent from the band's sound and image. For One Direction, omitting these two boy band staples has worked in their favor. While Four is not quite as lively as Midnight Memories, the bands growth can be seen throughout the record.
The record continues with "Ready To Run" which opens with an acoustic guitar pattern that is reminiscent of "Story of My Life" on Midnight Memories, though this time, the song is much more rollicking and starts to show the path that the band is heading down. "18" an acoustic tune penned by Ed Sheeran, feels slightly older, though it still shows hints of innocence as the group sings about meeting a girl on the playground and falling in love at the age of eighteen, while demonstrating that the band is still trying to appeal to children with the songs they choose for their albums. "No Control" takes things a step further by detailing a night spent with a girl, with member Louis Tomlinson stepping up to the plate and taking over the majority of the track, a first for the singer who had no solos on the X Factor, and only a few on Up All Night. Singing with confidence, Tomlinson makes his mark, while putting to rest the debate on whether or not he is a strong vocalist.
"Fireproof" was the very first hint of what was to come on Four, when the band gave the song to fans as a free download back in September. The Coldplay riffs that we heard throughout, suggested that the groups next album was going to be a more relaxed and calmer offering, and while it is not one of the more sing along worthy tracks, the vocals on the song are some of the best the group has recorded so far, with Louis Tomlinson once again showing that he is capable of carrying solos on his own.
"Stockholm Syndrome" is a throwback to the 1980's, and is easily the album's most addicting tune, while hinting that the band probably spent a lot of time digging through their parent's record collections to get inspiration for the track. Perfect for anyone who remembers music from that era, "Stockholm Syndrome" is not a song that older listeners will be embarrassed to blare in their cars, hoping that no one is listening. "Once In a Lifetime" is an acoustic ballad where we can hear all of the member's voices clearly, and demonstrates that nothing about the group is canned. Finally, we have "Act My Age", which focuses on the band growing old and spending time with their children. Sounding like an Irish jig, it sounds nothing like any previous One Direction songs, and it's a shame that it was only included on the deluxe version of Four.
As with every One Direction release it is never clear where the band could head next or whether they will fall apart tomorrow. Though with Four the group has proven that they can defy their critics and give them an album that is different and unexpected, while possibly sticking around longer than previously thought.
If you'd like to purchase Four you can grab it over on iTunes.