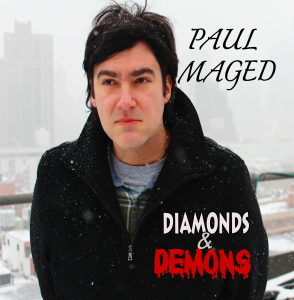 Diamonds & Demons, the sophomore album from New York City guitarist Paul Maged is an album full of tight rock and roll anthems, featuring crunchy guitar riffs, and wailing vocals that fans of Bruce Springsteen and the Barenaked Ladies will enjoy. Discovering his love for songwriting in early childhood, Maged's musical ambitions did not begin to take shape until his father passed away unexpectedly, and Maged began to write material for his debut album In My Time. Now with the release of his new album, Paul proves that he is ready for bigger and better things by writing a record that everyone will enjoy.
Diamonds & Demons opens with "Look At Me" which is a straight ahead rock tune and is a great introduction to Paul and his music if you weren't familiar with him before. After a quick count off of "2, 3, 4" Paul begins playing a gritty guitar riff that conjures up visions of a young Bruce Springsteen. With strong vocals accompanying his guitar playing, it feels like Paul is ready to play arenas, as his sharp songwriting style will grab music fans that are looking for rock tunes with an old fashioned edge. Next we have "I'm Okay", a song that picks up the pace and sounds reminiscent of the Barenaked Ladies with their easygoing pop tunes. By giving his album a bit of a pop edge, we get a taste of something different from Paul, since up until this point many of the songs featured on Diamonds & Demons have had largely the same style.
Tracks such as "Love & Loss in the Western World" is a slower song that brings in another dimension to Maged's music. Sounding very much like he wants to experiment with writing a heavy metal tune, it doesn't work out to well. Basing the song around one slow riff that is the most repetitious idea we have have heard so far on Demons, the song tends to drag and listening becomes a chore. While it's great that Paul wants to spread his wings and try different styles of rock music, "Love & Loss…" is one of the few tracks that doesn't feel memorable and after listening, he should stick to what he knows, writing great rock tunes that people will remember and get excited about.
Lastly, "I'm Gone" starts out with a thrashing drum beat and finally calms down a bit, though the only complaint is that Paul's vocals are drowning out the rest of the music, making everything seem unbalanced and not the greatest listening experience. Overall, Paul Maged has made a great record with songs that will stick in your mind for a long time. After listening to the album, it is obvious that Paul has a certain direction in mind for his music, and if he really works on perfecting it, the path he is currently taking is the right one.
Diamonds & Demons is out now.