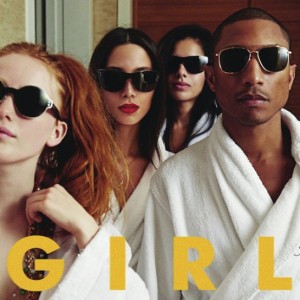 One night after Pharrell Williams performed his hit song "Happy" featured on the Despicable Me 2 soundtrack at The Oscars, Williams released his new album G I R L. The album is full of catchy songs that sound grandiose and ambitious. G I R L is an album that you have to listen to several times before you appreciate the work that was put into it. On first listen, it sounded like Pharrell was trying to sound like Justin Timberlake with his album 20/20 Experience, which was a maze of different sounds and styles, while trying to get the public familiar with his music again. That is exactly what Pharrell is doing on G I R L, though Pharrell brings his own style and flair. Using his producing skills with his ear for composing, Pharrell has written a great pop record, proving that after a long absence he can still rise to the top. In the 1990's, Pharrell formed the Neptunes, with friend Shay Haley performing R&B style music.  Several years later, Pharrell and Shay began producing together earning their first number one hit with the Britney Spears song "I'm A Slave 4 U" in 2001, while producing several more albums from different artists over the next few years. Williams released his first solo album In My Mind in 2005, though the album sold poorly in the US. Eight years later, G I R L is fresh new material from Pharrell and overall it's a great come back.
G I R L S opens with "Marilyn Monroe", a bouncy pop track that opens with a grand string introduction that nods to Pharrell's ambitions as an artist. The music that follows is a catchy and bouncy track, while being somewhat fluffy. Sounding like it has some early Michael Jackson influence throughout, "Marilyn Monroe" doesn't quiet have the same flash as Michael's songs, due to Jackson's voice having more power. The disco influence gives the song a lot of pizzazz and would be perfect for a single. While "Marilyn Monroe" is only the opening track, it is clear even at this point on the record, that Pharrell is not that great of a storyteller. Pharrell has created a musically strong album that is great, but the stories in the songs don't offer much of anything for the listener to relate too. "Marilyn Monroe" centers on envisioning the perfect woman, and while this concept is not new to pop music, on "Marilyn…" it ends up coming out incredibly shallow with lyrics like "This one goes out to all the lovers/What can we do? We're helpless romantics/We cannot help who we're attracted to/So let's all dance, and elevate each other. Dear diary, it's happenin' again/This energy, like I'm 'bout to win/I just close my eyes and visions appear."
Diaries and forty year old men don't seem to mix well, unless you are trying to write bone dry lyrics to accompany your opening song. Thankfully, we get Pharrell's great composing, singing and producing chops to make up for the corny lyrics. "Happy", the albums lead single is a casual jam with a chorus you won't soon forget. William's vocals sound a bit like Bruno Mars, with his confident and charming falsetto. The track has a jazzy feel, with background vocalists crooning along with Pharrell. Williams should write more songs like "Happy" as it is a song that displays his talent beautifully. The songs light sound gives people a chance to really hear his voice and in the world of pop, chances like that are hard to come by due to the overpowering effect of the backing vocalists. The songs large presence commands that you listen to it, and the structure is well done. At the end, you will want to press repeat, as you will want to continue to revel in Williams and his lighthearted happiness. It is clear that Pharrell has a spring in his step as his sings, and his fans will too.
"Gust Of Wind" featuring DJ duo Daft Punk, is where we see Pharrel wanting to create a fantastic album and succeeding. Again, we hear a heavy disco influence with background strings that sounds that shows that Pharrell was determined to write his best album yet. While at age 40, Pharrell still has many more years of performing ahead of him, "Gust of Wind" sounds incredibly accomplished for a performer who is only on their second album. The song also shows Williams and his charm as "Gust of Wind" pulls the listener in, as they realize that Pharrell is more than just a producer behind some of pop music's biggest hit. G I R L certainly has its flaws, but outside of the lyrical hurdles, Pharell is one of music's most talented vocalists, and his earnestness will only let him write and produce even better songs.