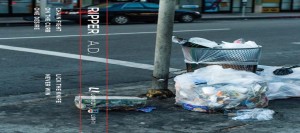 A.D. the second EP from Minneapolis punk act Ripper is a fast paced album with hints of pop that will remind punk purists of the Dead Kennedy's, the Germs, and The Beach Boys, as the band rips through five tracks that not only demonstrate their abilities but also their hard work and effort that they put into the release. A.D.'s opening track "Chain Fight" is a gritty and punchy song that introduces the group's audience to their dirty and grimy sound, as guitarists Sean Levine and Danny Holden show off their mean guitar skills. While the riffs aren't blazing, it's clear that both musicians have plenty of talent as they play like the speed demons every punk band needs.
"One Desire" the record's third track, has traces of a Minor Threat influence along with being reminiscent of Black Flag. While the song is hard and fast, both Sean and Danny brighten things up a bit as they play a surf influenced riff that sits on top of the punk licks they play so well. "Lick The Knife" dives more into the surf style of The Beach Boys, mimicking the pop harmonies the Southern California band is known for, without losing the groups rougher punk rock skin.
Ripper ends their raucous and energetic EP with "Never Win" a blazing tune that really gets to the heart of the bands musical passion and focus. While the group has dipped their toes into rock and roll, it is clear where the band member's hearts belong. While Ripper's sound is far from polished, its sound is very likeable, and while it will not sway punk critics anyone who likes the genre can happily immerse themselves in Ripper's tunes. With a glossy and stylish delivery to their music, Ripper would lose their dedication and love of their craft, which shines brightly on A.D.
You can listen to the song "On The Curb" below.