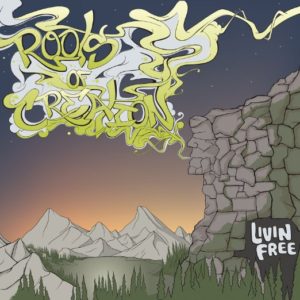 New Hampshire band Roots of Creation is the latest reggae and ska act to hit the airwaves, paying tribute to such California bands as Sublime, No Doubt, and Slightly Stoopid. Formed in 2001 when vocalist Brett Wilson, keyboardist Tal Pearson, and drummer Mike Chadinha were in college, the group has built up a solid fan base who is dedicated to following the groups music. Setting up a PledgeMusic campaign to fund the recording of their latest album Livin' Free, Roots of Creation's latest release runs just over one hour and has a few colorful reggae jams that take inspiration from many of the great artists of their genre that have come before them. Though the record has some catchy moments, after listening, it feels like Roots of Creation leaves their audience with much to be desired. Sounding similar to Slightly Stoopid on many of the songs, Roots of Creation's latest material feels bland and not quite as snappy as their predecessors.
Opening with "Get Ready," Livin' Free kicks off with a carefree tune that reggae fans will enjoy as well as anyone who is new to discovering the genre's bright disposition. Though the track sounds tight and well played, the song overall sounds boring and is not as exciting as we want it to be. Tracks such as "Punk RoC" is the album's strongest number and is by far the zippiest of the releases tunes, reminding us of Sublime during the Brad Nowell years, though we could also label the group as sounding like Sublime with Rome, a collaboration between guitarist Rome Ramirez and the surviving members of Sublime. Showing a different side to the band, a bold trumpet riff along with a fantastic guitar lick really makes Roots of Creation and their music shine brightly and is sure to get fans revved up during a live performance.
"Strength," a nice slow track, brings the tempo down a bit by taking the album in a different direction, veering from the predictable path the band has taken on Living Free. Nice and calm, "Strength" is a nice break from the more mid-tempo songs, allowing fans to hear Wilson sing at his best, who has the right voice to sing in a band heavily influenced by reggae.
Closing with the song "Policy", Livin' Free has a few good jams that will become ear candy for hardcore fans of reggae and may even a few fans of 90's ska bands. Despite this, the record as a whole sounds very average, nothing great, but nothing bad either. The only thing the band needs to work on is their snappiness, a characteristic that ska and reggae music brings out time and time again, something that Roots of Creation need in order to engage as many fans as possible.
Listen to "Punk RoC" below.