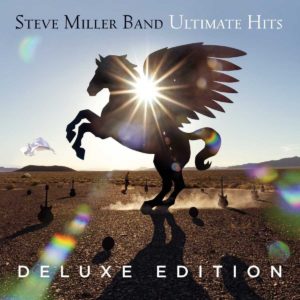 After 30 plus years in the music business, San Francisco based band Steve Miller Band has released Ultimate Hits, a two-disc greatest hits collection (that includes live recordings) that spans almost the entirety of Miller and the group's career. The first disc opens with five-year old Miller talking to his godfather Les Paul, who taught him three guitar chords and was a heavy influence on his love for music. During the thirty second conversation, Paul tells Miller that he is a good singer and that he has the potential to possibly be something in music someday.
Next is the song "Ghost of Love," which begins with an introduction where Miller tells a crowd about how he started his first band at the age of 12 with ambitious phone calls to all the venues in his hometown of Dallas asking if he could perform. While the clip may be familiar to longtime Miller fans, it's a great story about the start of his career for new listeners. Followed with his hit tune "The Joker," we know that Miller is fantastic at churning out hits while also becoming very influential throughout the San Francisco scene, where he ended up later in his career.
Songs such as "Living in the USA," demonstrate Miller's talent for live performing, which is consistently strong throughout Ultimate Hits. While some musicians began to decline in their performance as they age, Miller has continued to maintain a magnetic and joyful presence over the course of his career, and while he may be playing music to pay the bills, it's obvious on Ultimate Hits that he still highly enjoys the craft and creativity of music.
Tracks such as "Seasons," is a previously unreleased song and it's nice to hear these deeper unheard cuts as we get to hear the depth of his songwriting, a talent that never wavers. The acoustic tune displays his voice beautifully, with guitar playing that is soft and simple. Tunes such as "Sha Ba Da Du Ma Ma Ma," are obvious hits with a catchy bass line that makes the entire song glide along, as its grooviness becomes ingrained in your ears. You can't get enough of it, and that's the kind of attitude that Miller wants his fans to have when they listen to his music. Another live track is "Sugar Babe," an infectious song that sets the bar for most classic Bay Area musicians, makes natives remember that at one time San Francisco did have a great music scene, even though those days are long gone.
Towards the end of the first disc on Ultimate Hits, we hear "Take Your Money and Run," a catchy track that has memorable harmonies and a memorable sound, making the Steve Miller Band a gem that younger music fans should not miss. While not every song on here could be classified as a single for someone just discovering Steve Miller, Ultimate Hits is a good place to begin.
Listen to "The Joker" below. A review of Ultimate Hits (disc 2) will be posted on Friday, September 29th.