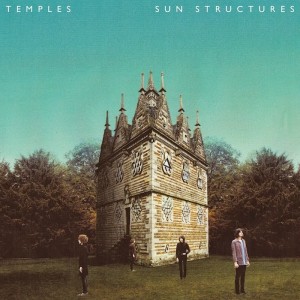 The debut album Sun Structures from British indie rock band Temples is a blend of psychedelic rock and pop that mimics past British bands such as The Beatles with their simplistic rock style coupled with atmospheric tendencies. While The Beatles released strong music at the beginning of their career, Temples does not seem to be off to a good start like their ancestors were. Often times, it feels like Temples is trying too hard to be like their hero's in everything they do including their sound, look, and the kaleidoscope of colors the band has used in their music videos to represent the 1960's. While the band tries to come off as original and new, all they are is a carbon copy of the past.
The band formed in 2012 in Kettering, Northhamptonshire, as a home studio project by guitarist and singer James Bagshaw and bassist Thomas Warmsley, who had previously worked together in the rock band The Moons. After the duo uploaded videos of their songs onto Youtube, Heavenly Records founder Jeff Barrett took a liking to the band and agreed to release their first single which would be "Shelter Song" off of Sun Structures. While the group has a decent handle on their instruments, the overall sound feels muddy, bland, and a sound that drags on until the last song.
Songs like "Keep In The Dark" has a marching backbeat, with the intention of keeping listeners focused on the myriad of sounds. Bragshaw ultimately delivers a sour and boring vocal performance, sounding like he would rather be somewhere else than singing with his band. The rest of the band seems to be in a daze, giving off the impression that that they aren't passionate about the songs they have written. "Move With The Season" is a dreamy ballad that has decent guitar lines but the melody plods along offering no excitement during its five minute duration.
By the middle of the record, we hear a lot of the same sounds, and the level of musicianship begins to sound deflated due to the similarities in each song. "Colors To Life" is the second single, but its heavy reliance on synths doesn't add the zip it needs to be played on the radio. Trying to recreate the sound of the 60's does not work for Temples. Instead of paying a tribute to their idols, Temples comes off as cheesy and boxy, due to the limited range of ideas in their genre. Before the band releases another record, they may consider redefining their sound, as the garage rock style they are trying to recreate isn't bringing back any nostalgia.