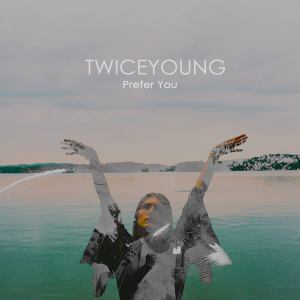 Prefer You, the new EP from Nashville, Tennessee band TwiceYoung is a relaxing and calming effort that blends together the soothing sounds of Copeland and James Blake to write an album that is completely their own. The group began in 2012 when friends Tyler Laspopoulos on guitar, and Zac Myers on drums, came together to start writing the tracks for their debut album Little Mind Alike. Soon after they formed and began writing, Seth Lourdon joined them on bass, rounding out the incomplete band. Prefer You opens up with "Undercover" a haunting and beautiful ballad that is perfect for those music fans that are looking for something on the calmer side. Mixing electronic influences with tinges of pop really gives the track a dazzling feeling, and gives the song a very likable edge. The EP's third track "Night Drive" has very much the same feel as "Undercover." While this song is heavy on the synths, it sounds very reminiscent of the Copeland album You Are My Sunshine, released in 2008, as it has more of a softer sound, while also cementing the album into something that is very permanent, as the group seems content with the style of music that they play.
Prefer You's fifth track titled "Datev" goes in the same direction as the EP's previous tracks. The aspect of the song that stands out the most is how the chorus fits into the tune. As the vocals sound like a chorus of several singers, it gives the song a very full and beautiful feeling with the strings having a majestic vibe making the tune flow together seamlessly. Lastly, "Not So Young" closes out Prefer You and in this song we hear a plethora of sounds including an organ and a flute like instrument which adds another dimension to the bands heavily layered music. While the other tunes on Prefer You grab you right away with their immediacy, "Young" takes awhile to warm up to its listeners, and in return it may leave the audience hanging and wondering where the tune is going.
Overall, Prefer You is a gorgeous album that will delight music fans with their interesting and refreshing take on music that doesn't grow stale when the EP ends.