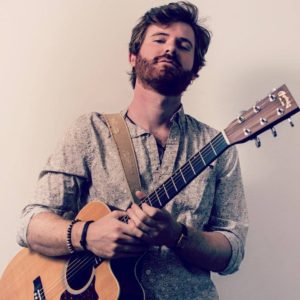 Growing up in Dallas, Texas, musician Jonathan Fox moved to the state's capital of Austin, where he plays music that brings together a myriad of musical influences on his latest release Loverlust, where he talks about love, relationships, and the trials of living as a millennial. Performing all over the southern region of the United States beginning at the age of fifteen, Fox is no stranger to performing, and has put out several self-released albums and EP's. His latest record Loverlust will bring notice to Fox and his act The Jonathan Fox Band, as they bring together country, rock, and some acoustic tunes, making Loverlust one of the best records from an Austin artist in 2016.
Opening with "Something New" we are introduced to Jonathan and his cheery vibe right away, as he plays glowing guitar riffs perfect for the local indie rock circuit.
Tracks such as "Play It Cool" also give off a sunny vibe, with a carefree attitude that we love instantly. Performed with vocals that can compare to The Strokes front man Julian Casablanca, Fox is an Austin musician that you need to keep an eye on.
Once we get into the groove of rocking out to his rock and roll tunes, Fox switches gears on us by going acoustic on "Inside Out." Perfect for a front porch jam, "Inside Out" presents a dimension to Fox and his band that sets them apart from other groups in their genre. Blending both styles together, Jonathan transitions from electric to acoustic sounds smoothly, diving deeper into his storytelling on these tracks, making his audience feel like they have something in common with him.
Closing with "Around the Corner," the song is less than two minutes long, though it ties everything together. Another acoustic number, we definitely want to hear more of this style from Jonathan, as this is where his talent shines, with his electric songs giving his music a bit of spice and life. Loverlust is not an album that you should miss and we can't recommend The Jonathan Fox Band enough.
Listen to "Family & Friends (Hurt & Make Up") below.
To celebrate the release of Loverlust, The Jonathan Fox Band will be having an album release party at Stubbs in Austin, on July 30th. You can get more information and your tickets here.