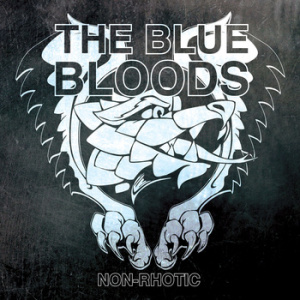 Non-Rhotic, the latest album from Boston punk band The Blue Bloods is a record that will certainly inspire many mosh pits and plenty of sing alongs. Formed in 1998, the band has released several albums, which include a self titled album in 2003 and Death of a Salesman in 2005. Nearly ten years later, the group is back with Non-Rhotic, a record that is still sticking with the bands known sound and style, which is original punk rock songs that still sound authentic in a genre that is often merged with pop, to give it a more radio friendly feel. There are no hints of pop on Non-Rhotic as the band races through fourteen tracks in just thirty-five minutes with honesty and urgency.
The album kicks off with "On Your Own", a very abrasive track that sounds reminiscent of Northern California punk act No Use For A Name, as its powerful guitar driven sound charges ahead with raspy vocals from guitarist and vocalist Tim Baxter. "Better in Silence" is an honest anthem that jumps out of the speakers and grabs a hold of the bands audience, as Tim takes on a harsh tone as he sings about realizing when enough is enough when someone's personality becomes too much to deal with. "Deaf, Dumb & Blind" is one of the speedier tracks on the record, with a focus on the racy time signatures which punk rock is known for. The track is also rounded out with gang, or group vocals, which gives music fans who are unfamiliar with punk rock shows, a taste of what they may experience during one of the bands performances- everyone singing along, while trying to survive a mosh pit. While many casual music fans may write off The Blue Bloods as sloppy musicians, the punk rock genre isn't supposed to be mainstream friendly, and the genre's DIY (do it yourself) mentality is really put into place here, as the group makes it clear that they are making the music they want to make, on their own terms. "Drawn and Quartered" is the one track that can be labeled as a mid tempo tune. Still playing guitar riffs that really drive the song, the more easygoing feel on "Drawn" is a notable track since it really shows off the bands musical abilities, beyond being able to change time signatures at a moment's notice.
Non-Rhotic ends with "She's Into Malakas, Dino" a nearly six minute track that features the band quoting the 1985 teen sci-fi movie Weird Science. As they did with "Drawn & Quartered", the band brings a rock and roll edge to the song that is a great ending to the record. Non-Rhotic is a great album that every punk fan will enjoy, and is a great introduction to music fans that may just be discovering punk music for the first time.
Non-Rhotic is out now.