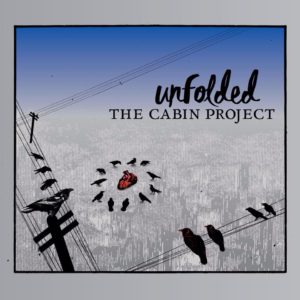 Set to release their third album Unfolded today, Portland orchestral synth rock band The Cabin Project have released a collection of tunes that sound majestic and serene, making the band sound varied. Sounding influenced by Bon Iver, The Cabin Project doesn't fit into the traditional rock mold, making them a unique entity within the music industry.
The group got its start in 2009 with musician Katie Sawicki, an ex-Brooklynite who became interested in writing music with electric guitars, keys, and synthesizers, and balancing all three instruments on stage. After moving from New York City to Portland in 2008, Sawicki crossed paths with orchestral percussionist Zanny Geffel and Rebekah Hanson, a viola player, who had studied the instrument in her university years. Churning out albums is something these musicians does well, as they released their sophomore effort Heliotrope in 2013, followed with an EP titled Sine in 2014.
Opening with the mid-tempo song "Chain," Unfolded gets off to a promising start, demonstrating Sawicki's pure and angelic vocals, while keeping with the softer aspects of the groups music, with the strings adding a beautiful feel to the track that fleshes out the group's purpose, which is to create music that is individualistic, while making sure that younger music fans can enjoy their music too.
"Fade," Unfolded's fifth track begins with a jazz inspired beat and touches on the group's soft rock leanings, showing off Katie's vocals and Hanson's ability to make a song feel emotional with only the sound of her viola, a beautiful addition to the band's classical style.
While Unfolded is a well done record with cuts that have a timeless edge to them, the record doesn't take to many risks, until you head straight the record's ninth song, "November I Miss You," a rock song that brings in a subtle indie influence. Playing a drum beat that makes drummer Zanny Geffel shine, the attempt at a rock style song is brief but well done, making us want to hear more of this genre from The Cabin Project.
The Cabin Project closes Unfolded with a solemn number titled "12 (First)" with Rebekah and Katie singing breathtaking harmonies with a voila line that creates a reflective feel, creating the kind of sad tone that the band has become so adept at doing. Following in the path of their influence Bon Iver, with his sad and often mellow material, The Cabin Project is a group you should not miss if you enjoy listening to an act that wants to leave their mark.
Check out the music video for "Highways" below.