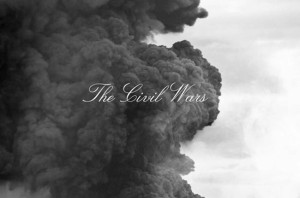 A dark billowing cloud of black smoke is the cover art for The Civil Wars self titled sophomore album. A cloud of smoke is very fitting, given that the group is not speaking to one another and they have no plans for a tour in support of their latest effort. Guitarist John Paul White and vocalist Joy Williams met in Nashville at a songwriter's session in 2008. In 2011, they released their debut album Barton Hallow, and in 2012 they won a Grammy for Best Country Duo/Group Performance as well as Best Folk Album of the Year. After having major success with Barton Hallow, Williams and White decided to take a break, citing "internal discord and irreconcilable differences of ambition" in November of 2012 half way through their European tour.
 While the group agreed to get together to write the songs that make up their latest effort, their friendship deteriorated even further. Even though the band's future was looking bleak, Joy has said that she thinks the rough patch the group is going through actually helped the creative process when writing for The Civil Wars. "We didn't have as much ease between us, so we had to really focus on communicating our ideas and working hard to finding middle ground. It took a lot of energy, honestly. We both have very different work styles, but I'd like to think that creative tension actually ended up serving the album well in the end. In my opinion, we created something even more raw and aching and real than anything we've done to date."  
Songs like "Same Old, Same Old" begin with lyrics about not wanting to lose a friendship. I want to leave you/I want to lose us/I wanna give up/But I won't/I wanna miss this/I want a heartache/I wanna run away/But I won't. While the song slowly builds in momentum, both John and Joy deliver emotionally charged vocals that have a sad and almost gritty tone, with the music painting a picture that captures those emotions. "I Had Me A Girl" opens with John's crooning voice, with Joy joining him on the "oooh's" throughout the track. Reminiscent of the vocal style heard on Barton Hallow, both of their voices go together extremely well, and this rock inspired anthem is a reminder that the talent that The Civil Wars bring to the table is rare. This song is one of the rare moments where John brings out an electric guitar, giving the band a feel that makes them seem rough around the edges, while still being able to deliver the mellow country songs they are known for.
Writing about loss and picking up the pieces is something The Civil Wars do brilliantly, and the sad and depressing theme is continued steadily throughout, although there are certain songs that suggest that the band is hopeful that they will work out the obstacles before them, and "From This Valley" is one of those songs. While the song makes religious themes a base for the song's lyrics, the acapella vocals from both John and Joy towards the end of the record is one of the highlights. As they sing, you wonder if either member can succeed in music without the other when John's throaty vocals and Joy's pure vocal style come together and record something that is beautiful.
At this point, it is unknown even to the members of The Civil Wars whether or not they will tour in support of this album, let alone make another record. If the end has come for The Civil Wars, they have made another great record that fans will love.