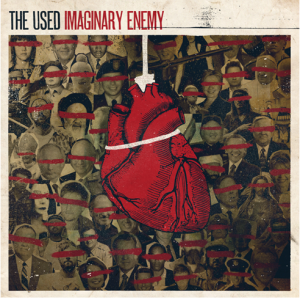 The Used have done it again. The rock band from Orem, Utah has written another biting album with Imaginary Enemy.  The group's fans who have developed a cult like following for the group will love the new music and will defend them fearlessly as the band writes largely identifiable lyrics that never seem to change their focus as their fan base grows up. Forming in 2001, The Used released their self-titled album in 2002, spawning the hit "The Taste of Ink", and led the band down the path of being known as one of music's best bands with their engaging live shows and honest songs. The Used would go on to release five albums and four EP's during their career which has lasted for over a decade. With the departure of founding member and drummer Branden Steineckert in 2006, the band welcomed current drummer Dan Whiteside's into the fold shortly afterwards and his hard hitting brutal attack on the drums comes out in full force on the record. While Imaginary Enemy still finds us listening to a band that bears it all and writes in your face rock tunes that sound huge, this time around we hear more pop influences, with a hint of auto tune on front man Bert McCracken's vocals. The thing that hasn't changed is McCracken's trademark screams, which is a reminder that we are still listening to The Used.  
The album's opening track "Revolution" begins with an audio track of an old man saying "all revolutions are impossible until they happen, then they become inevitable", and that becomes the bands cue to kick off the tune with a huge opening that will leave listeners hooked and wanting more. This is a similar tactic that was used on the bands album In Love and Death released in 2004. The Used is clearly a band that wants to make a grand entrance with their albums, and these brief spoken word introductions help them do that. The hugeness is also helped with a lot of overdubbed vocals, where every band member is participating in venting their emotions, and after a decade of the band opening their records in the same style, it doesn't feels like they are repeating themselves. "El-Oh-Vee- Ee" is a slightly watered down song that makes itself bigger mostly for the bands use of gang vocals, or everyone singing in unison. The gritty guitar from guitarist Quinn Allman splits up the songs overall feeling of intensity, with its pop sounding chorus as Allman plays a more melodic guitar part. The only thing that feels out of place is Bert's auto tuned vocals which doesn't sound too natural when you put it up against the bands first two releases, where Bert outdid himself vocally by sounding as raw as possible with his harsh screams, while also presenting a softer side with his great sense of melody. While the band could have been experimenting with different vocal techniques on this song, it really doesn't seem to fit with the albums vibe or sound.
 The album's title track "Imaginary Enemy" is a song that switches time signatures abruptly throughout, giving the tune a little more experimentation musically than we have heard on the rest of the record. Starting out with a punk rock beat, we hear a rock and roll song that will be a favorite among fans, as they can sing along with the phrase "imaginary enemy" as it actively allows for crowd participation.
While The Used don't go through a real  growth spurt on this album, the new music will please fans who have been following their music since they started, and those fans will be enthusiastic about their next release.