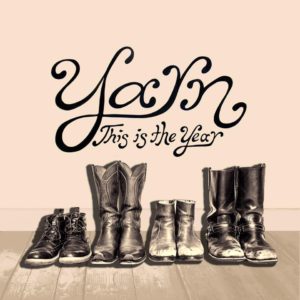 North Carolina band Yarn is an Americana act that you won't be able to get out of your head. Originally based in New York City, the group got their start performing a successful Monday night residency in the New York City neighborhood of Greenwich Village at the famed club Kenny's Castaway. Throughout their residency, the band found an incredible amount of success promoting themselves the old fashioned way-by performing to as many people as possible, while also writing down to earth songs. Starting out as a residency band allowed the group to perfect their music in front of a live audience that would range from five to fifty people each week. After their time at Kenny's Castaway ended, five albums would soon follow, with their debut self-titled LP hitting record store shelves in 2007.
On their latest release This Is the Year, Yarn opens up the record with "Carolina Heart," a gorgeous song that is a beautiful start to a very reflective album that is immediately enthralling. For the fans who will discover the group with this record, there are no hints to the bands past location and history, as their sound is authentically Americana with some country thrown in, which is a perfect association for the American South. Appropriately titled, This Is the Year focuses on new adventures and taking chances, while introducing a new chapter in the bands career.
"Sweet Dolly" is another carefree number that takes us back to the old days of the country genre, when musicians sang of struggle and perseverance, and while Yarn certainly has a modern sound, the thing that sticks out the most is that it sounds like the band doesn't feel the need to incorporate a lot of the pop elements heard in today's country hits, giving Yarn a more genuine and raw edge.
To close out This Is the Year, Yarn tacks on "I Let You Down" a stripped down and minimalist track that goes deep into the soul and touches the group's audience. With a gorgeous and shimmering guitar part, front man and guitarist Blake Christiana's southern twang feels like home and we can't wait to hear where Yarn go next, as they grow their fan base one crowd at a time.
Watch the music video for "This Is the Year" below.