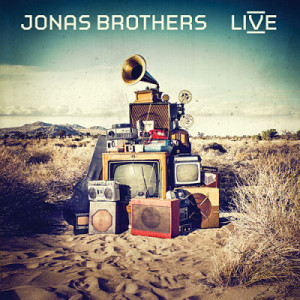 Over the years, the Disney Channel has brought many hopeful young performers fame including Hillary Duff and Miley Cyrus who have gone on to have successful careers. The company has also had its luck with bands, and the Jonas Brothers were their most successful group.  While the band has recently broken up over creative differences, the group has left their fans with four new songs from their unreleased album V, or "Five". They also recorded ten songs live on their summer tour taking place earlier this year titling the record LiVe. Forming in 2005, the group released four successful albums together before taking a hiatus in 2009 to work on individual projects. After a sold out reunion show at Radio City Music Hall in New York City in 2012, the band spent the rest of the year and most of 2013 hyping up the release of their fifth album. Due to creative differences, they were never able to agree on their musical direction, and because of this this, they decided to cancel their second American tour despite not releasing V in the fall of 2013.
The four songs from LiVe that were set to be released on V, sound nothing like previous Jonas Brothers tracks. Stating that R&B singer Frank Ocean was a major influence on V throughout interviews in 2012, the band takes that influence and runs with it. Songs like "What Do I Mean To You" have a much more electronic and computerized sound with youngest brother Nick Jonas sounding like a grown man, taking over the lead vocals on the four new songs. One of the downfalls of past Jonas Brother's tunes was that Nick's voice sounded too squeaky to appeal to anyone outside of their young fan base, but on LiVe we hear none of that. On these new songs, he has come full circle as a vocalist, and his time spent on Broadway during the group's hiatus has served him well, as he has finally learned how to fully use his voice. "First Time", V's second single, is another poppy electronic track that is a catchy tune that will get their fans singing along with its carefree sounding chorus. We get a great feeling from the new grown up Jonas Brothers on these new songs, and it's too bad that they felt that they could not explore this new sound more.
As for the live tracks, even though the Jonas star has begun to dim, the enthusiasm and energy from their fans has not. When the band played such hits as "SOS" the crowd shrieked and sang along like it was the beginning of the bands career. "World War III" sounds just as big as it did on the group's last official album Lines, Vines, and Trying Times in 2009, and you could tell that the band was having a great time on stage, giving no hint that a rift had formed between the brothers.
Given the sound and maturity of the four songs on V, it's a bummer that the full album will never be released. When listening to the four tracks on V, what the band would have sounded like if they had fully agreed on change remains a bit of a mystery. While the four released songs possibly provides some answers to these questions, hopefully the Jonas Brothers will one day be able to answer their fans and critics by releasing music that they are all happy with. Until then, their Disney image will forever stick with them, whether they want it to or not.