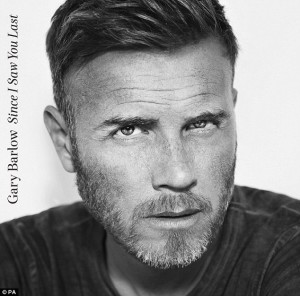 Gary Barlow is one of the UK's most successful songwriters, and fourteen years after his 1999 album Twelve Months and Eleven Days flopped, he is back in business with his latest solo album Since I Saw You Last. Gary's current record is a great pop album that proves that Gary is a great musician by embracing new styles of music and shifting away from his previous sound of dance music. Gary began his career in 1990 as the front man of boy band Take That who were incredibly successful throughout the UK but failed to have any success in America. The group disbanded in 1996 and came back together in 2005.
Appropriately titled Since I Saw You Last, perhaps alludes to the long gap between records, Gary treats his fans to a great pop album that veers away from his Take That days. He dives into music that has a Mumford and Sons and a Beatles vibe with light carefree music that shows that Gary has come back in full force, while also wanting to redeem himself for past dismal album sales. The album's lead single "Let Me Go" is a foot stomping folk song intermingled with Gary's strong vocals. The song's chorus is a memorable one, and it is bound to get stuck in your head. The new direction of his music suits Barlow nicely, and shows the depth he has as a songwriter as "Let Me Go" is a departure for Barlow as this is the first time that he has dabbled in folk music.
"Face To Face" the album's fourth song is a funky tune that features Gary singing a duet with Elton John, one of Gary's biggest musical influences. The song has a 70's vibe sounding like something Carol King would write. Gary and Elton sound great together, and after listening to "Face To Face" it is hard to think of who would take Elton's place if he hadn't been featured on this track. "Dying Inside" darkens the mood of the album, as it is possible that the song was written about Gary's decision to perform at the closing ceremony of the 2012 Olympic Games in London one week after his daughter Poppy was stillborn. The haunting piano part and Gary's higher vocal notes is a great song as it expresses his emotions perfectly about his loss.
Finally, "A Song I'll Never Write" is the last song on Since I Saw You Last and is a great ending to the record. Complete with an acoustic guitar, Gary's vocals, and more foot stomping and clapping, the song showcases Gary's voice perfectly. While Gary has not had the same success as his Take That band mate Robbie Williams when it comes to his solo work, Since I Saw You Last is the push Gary needs to be on par with Robbie and his success.