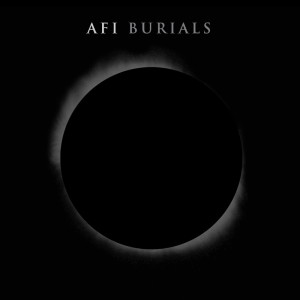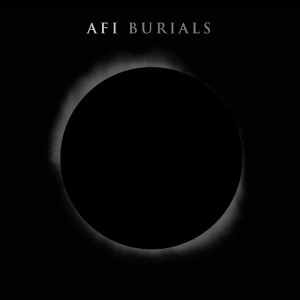 On AFI's (A Fire Inside) latest release Burials, the group has brought back a much darker sound, much unlike their 2009 album Crash Love. While being a hard rock album, Crash Love had its moments of letting the bands harder edge down, while delving into pop music, which was a style that the band had not previously tried. While there are no wailing guitar riffs from guitarist Jade Puget on Burials, the band has gone back to their dark and somber song titles, while having descriptive and poetic imagery throughout their songs. Formed in 1991, in Ukiah, California AFI has released eight albums, ten EP's, and one live album. While the group steadily toured and released new music for the first twelve years of their existence, the group did not start to receive major label interest until 2003 when they released Sing The Sorrow. It has been four years since AFI released Crash Love, and since the band likes to take their time with writing and releasing new music, fans were worried that a break up was on the horizon as they heard nothing from the band for nearly two years.
In describing the band's latest record, lead singer Davey Havok gave the following explanation: "This record is of silence, of burials, and the burials that result from that silence. "It's of betrayal, cruelty, weakness, anxiety, panic – deep and slow – despair, injury and loss. And in this it is shamefully honest and resolutely unforgiving." Havok certainly gets this theme across in these new songs and in his lyrics. While Burials has the harder industrial edge that longtime fans will love on "I Hope You Suffer", the band stirs up the emotion of the song by having the beginning of the song like something straight out of a horror movie with harsh wind blowing, followed by beautiful vocals from Havoc, going from soft and light to powerful. "Heart Stops" sounds like a lighthearted pop song. Complete with an anthem like chorus, the song on its own is not bad. When placed within the track listing of Burials, the overall feeling and sound seems awkward and seems better left for another album in the future, or a possible B side's album. "Rewind" is one of the more intricate songs on the album, and will become a fan favorite. Known for being perfectionists when it comes to writing music, it is obviously that AFI have taken great care to release the best music they can make and "Rewind" is evidence of this. With guitar riffs that uses full use of the fret board, fans old and new will be reassured that Jade is one of rocks best guitar players. Havok's emotional vocal delivery will touch a nerve with fans as he screams, shouts, and sings his lyrics with passion, something that Havok has been consistent with throughout their career.  
While AFI has experimented with softer music in the past, Burials is proof that dark and edgy music is the style they do best, and the songs heard on Burials is the step to staying on the same path they have taken since their major label debut.