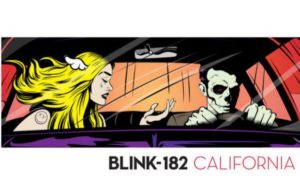 "Woo, woo, I wanna see some naked dudes, that's why I built this pool," Blink 182's Mark Hoppus sings on the seventeen-second song "Built This Pool" on Blink 182's new album California. The track is one of two "joke songs" that longtime fans are familiar with, and while Blink 182's new sound has a more polished feel, their 7th album doesn't sound quite grown up yet. But then again, Blink 182 were never supposed to mature, at least on the musical front, anyway.
Throughout the bands career, they have evolved their sound on their own terms, while going through two lineup changes.  The first in 1997 when original drummer Scott Raynor left the group, and now on California with the addition of guitarist Matt Skiba, who replaced founding guitarist and vocalist Tom Delonge who left the trio last year.
Opening California is the track "Cynical," the kind of pop punk song Blink 182 haven't released since 1999's Enema of the State. And while fans were questioning whether Matt Skiba of Alkaline Trio would fit into the mix with Hoppus and drummer Travis Barker, he actually fits well, making the band sound smoother in comparison to Delonge's choppy vocals and guitar playing.
Next we have the record's lead single "Bored to Death." Opening with Barker's scattering drum fills, the song felt to boring and not as memorable as the past lead singles the group have released, though when listening to it alongside the rest of the songs on California, it has its place and starts to grow on you.
On the goth tinged "Los Angeles," Hoppus and Skiba trade vocal duties, making the song the most experimental track since releasing their self-titled record in 2003. Bringing up nostalgia for the darker side of Southern California, "Los Angeles" is one of the strongest cuts on the release, though it's only stumble is producer John Feldmann and his slick production, making Blink 182 feel more glossy then they were ever meant to be, stripping away the qualities that attracted fans to the band throughout their career.
"Kings of the Weekend" is another track that reminds us that Blink 182 is rooted in pop punk, as it gives off hints of one of the bands major influences, fellow California band The Descendents.  Known for their short pop punk songs about everything under the sun, you can hear The Descendents and their influence on many of Blink 182's older records, though this had taken a back seat to Tom Delonge's artistically-minded side project Angels and Airwaves, whose influence has crept into the groups sound in recent years.
"Rabbit Hole" was a song released as a digital download when fans pre-ordered California, and if fans showed concern that the band had lost their previous identity when Tom Delonge's artistic side took over, "Rabbit Hole" assures us that Blink 182 are home and right where they belong.
Closing with a thirty second song titled "Brohemian Rhapsody," it is the records final "joke song", and while it only has ten words in the lyrics, the track feels like a bit of waste, even though it does redeem itself by demonstrating how well the group plays together, and just how much Skiba belongs in Blink 182.
While Tom Delonge has just recently insisted he never quit the band and is talking to Barker about rejoining the group, after listening to California, we hope he doesn't return. California has led Blink to rediscover their identity, and though this record wasn't meant to be a concept record, it illustrates the bands love affair with their home state, while also reminding fans that it's okay to still act like children when you enter middle age.
Watch the music video for "Bored to Death" below.