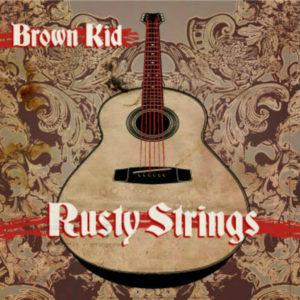 Born in Lima, Peru, acoustic singer-songwriter Brown Kid has settled down in Alabama where he currently writes music that is a mix of pop and hip hop, that appear on his latest EP Rusty Strings. Released about five years ago in 2013, the EP consists of five tracks that display Brown Kid's talent, calming tone, and laidback style. After working with Grammy winner Larry Mitchell and American Idol winner Paul McDonald, Brown Kid has shared an effort that feels like he can someday leave his mark on the indie-folk scene.
Opening with "Welcome to My Funeral," the track begins with a simple drum beat and an acoustic guitar that shows hints of reggae. While it gives off a bit of a morbid vibe judging from the title, the song has a memorable sound that becomes ingrained in your head, showing listeners that Brown Kid's songs are something that you'll want to pass on to your friends. "Jamaicamecrazy" also has a strong and vibrant reggae influence and its relaxed "anything goes" personality shines throughout each bar of the tune. Brown Kid also known as Eduardo, has a warm and inviting voice that will remind his audience of the late Sublime front man Brad Nowell. Ending with "Complacency," the colorful songs on Rusty Strings are tunes that you'll want to play all the time.
While Rusty Strings was released quite a while ago, each track on the effort feels like you can listen to it for years without going stale, and we look forward to what comes next.
Listen to "Jamaicamecrazy" below.