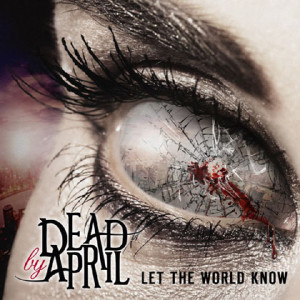 Dead By April's latest album Let The World Know is a metalcore album that brings everything in the genre together- crunchy guitars, screams, and some clean vocals, though the thing that stands out about Dead By April is their melodic approach to music. Being compared to 90's boy band The Backstreet Boys for their pop sounding vocals on past albums probably isn't the most flattering comment for a band that is trying to melt faces with their intense brand of metal. The Backstreet Boys comparison is an interesting one, as instead of trying to sound soulful and harmonious, Let The World Know presents a different angle to their music, which is staying connected to their roots, while also trying out different styles. Like their peers in Of Mice and Men, who catered to different genres on their latest album Restoring The Force, we see an artistic side to Dead By April that is very musical.
The band was formed in 2007 when singer Jimmie Strimell decided to collaborate with songwriter Pontus Hjelm. While the duo never released any early songs on social media, they let their friends listen to their new project and soon after, two songs named "Lost" and "Stronger" spread rapidly over many peer-to-peer file sharing networks. By 2009, the band was playing around their native country of Sweden, playing frequently in their hometown of Gothenburg. Opening song "Beautiful Nightmare" opens with a soft piano part, giving way to an intro that paints a darker image of the band with double bass drums and a jarring guitar solo. The vocals switch between being high pitched and melodic, introducing the lighter side of the band. The group plays both genre's well, and the impression is a good one.
Tracks such as "Done With Broken Hearts" is a rollicking tune is surely to gets its fans rocking, as the band's drummer Alexander Svenningsson plays an alternative rock beat that ditches the groups metal label, while ultimately pointing them down a new path for future records. "Replace You" is the only slow song the record, and while its tempo and feel are entirely different from the rest of the tracks, it's nice to know that the group is not afraid to slow things down. While there no mushy songs similar to the Backstreet Boys on Let The World Know, the music is heavy enough to lump itself into the metal genre, but the styles that the band incorporates into their latest effort can help the bands fan base reach a more mainstream crowd.