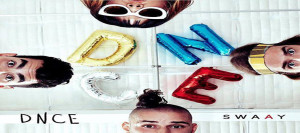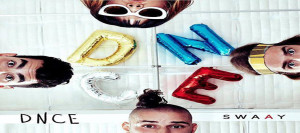 In 2013, DNCE front man Joe Jonas ended his eight year run with his band the Jonas Brothers, which he formed with his brothers Kevin and Nick, along with a host of rotating backing musicians. During a hiatus from his very successful career with his family band, Joe made a solo record titled Fastlife (2011), an R&B inspired release that had possible aspirations of wanting to follow in the footsteps of Justin Timberlake, and while it included a few strong cuts, the album did not sell well. While brother Nick has begun a successful solo career and older brother Kevin is spending time with his family and designing high end homes, Joe has embarked on yet another risky musical venture, trying hard to put his Disney past behind him. And while Fastlife failed, SWAAY, the debut EP from Jonas' new band is an electric collection of music that works.
Opening with the funky lead single "Cake By The Ocean", the song is clearly placed at the beginning of the record to get the audience pumped. With a memorable chorus in place, Jonas and his voice are addicting, while also demonstrating that Joe is well schooled in how to entertain and create enthusiasm for a live audience, something that translates smoothly to SWAAY, making us feel that this is a new beginning for Joe.
The others members of the group also jive well together, particularly because they are led by rock solid drummer Jack Lawless, who lent his rhythmic expertise to the Jonas Brothers from the early days of their popularity. It's not all funkiness however, as the band tries their hand at a slower song titled "Jinx" and this is where the band shines. Vocally Jonas is at the top of his game, where he sings without any rough spots or hesitation, and the softer acoustic vibe gives SWAAY a nice turning point, even if it is at the end of the release.
While the band quietly introduced themselves to the public within the last month or so, the group have positioned themselves as a band not to be missed, and anyone who is put off by the presence of Jonas or Lawless, should not be, as DNCE gives the former Jonas Brother a different style and flavor, something that the grownup former Disney star needs to be taken seriously.
You can listen to the record's lead single "Cake By The Ocean" below.