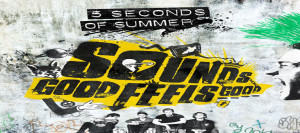 Formed in 2011 in Sydney, Australia, pop punk band 5 Seconds of Summer rose to fame by opening for One Direction on their Take Me Home tour in 2012. Last year, the group released their self-titled album to much enthusiasm; featuring twelve guitar driven songs, it felt like pop punk was experiencing its second wave of success after falling into decline. While that record had the potential to inspire the next generation of young rock bands, on their latest LP Sounds Good Feels Good, it sounds like 5 Seconds of Summer are still trying to find their place, while trying to recapture the likeability of the tracks we heard only a year ago.
The record opens with "Money" a pop inspired jam that is a good opening song, though it feels like it's trying too hard to appeal to the teenage crowd the band is trying to hold on to. Sounding uninspired lyrically by singing, "Take my money, take my keys/Drive this car through the drive-thru please/From the floor to the ceiling, robbing and stealing/Everybody in the place catch that feeling like/Ooooh ooooh/Take my money", "Money" feels very much like it was randomly placed in the track listing.
Next, we hear the album's lead single "She Kinda Hot", and we are once again reminded that 5 Seconds of Summer can write catchy hooks, with only subpar lyrics. With a guitar intro that will immediately become lodged in your mental file, "Hot" becomes one of the records strongest tunes.
"Permanent Vacation", a track that the band introduced on their tour earlier this year, is reminiscent of early Simple Plan, when the band released Still Not Getting Any (2004.) With a bounce from start to finish that cannot be denied, "Vacation" is a song that we can't help but love, and as far as songwriting goes, it's one of the quartet's better songs that they've written to date. Vocally, front man Luke Hemmings sounds confident and enthusiastic, putting everything he has into the album that his band worked so hard to make.
While this release is certainly a much slower and a more mid tempo release than 5 Seconds of Summer, one of the things that becomes apparent early on, is its focus on more ballad style tunes such as "Waste The Night." Perfect for a transition at a high school dance, the bands harmonies are tight and their playing style is more relaxed. With an explosive chorus that features all four of the bands members on vocals, "Night" feels huge without being to in your face.
"Fly Away" which appears towards the end of Sounds Good, has all the elements of an opening track, with the explosive feel that we are used to from the band. Immediately, we are drawn into the chorus where the members sing "I want a little bit of California, with a little bit of London sky/ I wanna take my heart to the end of the world and fly away tonight." While the lyrics are still lacking, the band make up for this flaw by writing a hook that sticks, while cementing itself as a song that works as a potential single. While released as a promotional single, after listening, there is no question that "Fly Away" is the records best cut, while also reassuring skeptical listeners that 5 Seconds of Summer play excellent pop punk.
Though Sounds Good Feels Good has its stumbling moments, overall the album works well, though with more writing experience, this young band could last far longer than their critics expect them too, with the potential to become more influential than they are given credit for.
You can listen to a selection from the album titled "Fly Away" below.