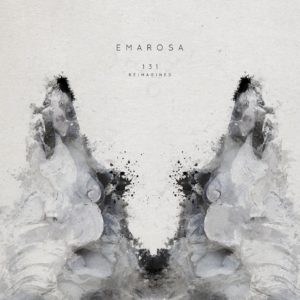 Releasing their 2016 record 131 last year, Emarosa has dropped a short four track EP of songs from that body of work called 131 Reimagined. Out now on Hopeless Records, the release includes tracks such as "One Car Garage," "Blue," and "Helpless." Opening with "One Car Garage," gone is the bands hard hitting sound, with fans being introduced to a more relaxed side of the band, with plenty of melodies and a darker sound then on the original 131. If you weren't into Emarosa before, then these reworked versions of their tunes will win you over.
Numbers such as "Helpless" begin with a soft piano and front man Bradley Walden's soothing vocals that take things down a notch on the normally hard-hitting track. Only two songs in, fans can often feel a bit weary of reimagined records as you never know what a band is going to come up with, but in Emarosa's case reimagining their songs works out well.
Cuts such as "Miracle" also take a more relaxed vibe, giving the song the same feel as "One Car Garage." Putting an R&B influenced beat on the song gives fans a new layer to the group's music, making the song a unique reworking of one of 131's best tunes. Ending with "Blue" the meditative introduction takes fans into another world, while also sensing that the group has really enjoyed the process of recreating these songs.
While each song on 131 Reimagined is a worthwhile listen, redoing the entire record would have been an interesting listen as the EP does feel a bit incomplete, but diehard fans will be satisfied anyway, no matter what Emarosa releases.
Listen to "One Car Garage" below.