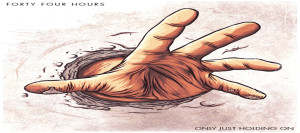 Manchester pop powerhouse Forty Four Hours have released an EP titled Only Just Holding On, a four song release that gets potential fans familiar with the group's explosive style as well as the bands passion for music that becomes evident immediately. Beginning in 2014, the band released their debut single "Earl Gray", allowing music fans to become acquainted with their polished and bouncy sound, which has brought the band attention from several magazines. The EP's opening track "Hold Out" is a rock and reggae infused track with vocals that shine and guitar riffs that enthrall, making Britain's newest band one to watch.
"Difficult", is Holding On's most groovy and impressive track, as the repetitive guitar lick shapes the entire song and makes up a hook that we can't forget. While the vocals on this song are a bit on the choppy side, the music that surrounds it sounds fresh and invigorating. "Pressure & Sleep" is a more laidback track, though the group's infectious personality still shines through brilliantly. With the guitar once again becoming the forefront of the song, Forty Four Hours becomes an act that you will listen to over and over.
"The Time and The Place", the release's punk inspired song, ends the record on a high note as we are now totally addicted to the band and their sound. With an opening spot supporting Welsh hardcore act Funeral For A Friend under their belts, Forty Four Hours won't be a little band from Manchester for long, as their songs will take them further than they ever anticipated.
Watch the music video for "Hold Out" below.