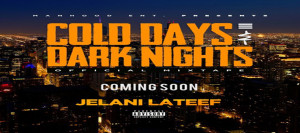 Southside Chicago emcee Jelani Lateef has immersed himself in the hip hop scene for over a decade, and his latest mix tape Cold DaysDark Nights is an honest and raw release that will convert even the most skeptical of hip hop critics. While Jelani stays true to the rough beats and themes of the rap genre, he also discuses defying the odds and overcoming obstacles while also rapping about his family and past relationships. "Cold Days Intro" opens the mix tape with Jelani's smooth flow and catchy beats that make him out to be the next big hip hop star.
"One Life One Chance" focuses on making the best life that you can, with an honest song that is a standout number on Cold Days. As he speaks about trying to support his young daughter, we appreciate his honesty and how he has made an effort to step away from the normal hip hop themes of violence and brutality against women. Cold Days Dark Nights adds a new positive outlook and flavor to hip hop that we haven't heard in awhile, and while Jelani discusses his confrontation with his demons and hard times, he does it in a way that makes just about everyone feel like they can connect with the lyrics.
"Keep Looking" ends the mix tape with a more R&B style track that works out well alongside the rest of the songs. With a beat that rounds out the tune along with background vocals that add a woozy feel to the track "Keep Looking" is one of Jelani's best cuts to date, making him a truly great up and coming hip hop artist that will rise to the top quickly.
Watch the music video for "Forward Advance" below.