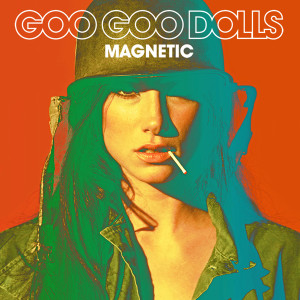 Releasing ten albums is an accomplishment for any band, but for the Goo Goo Dolls the accomplishment sounds old hat. The band released Magnetic on June 11th, and while it has some strong points, overall the album sounds far removed from what the band has released in the past, as well as being the most corporate album they have recorded.The album's lead single "Rebel Beat" features a drum machine in place of Mike Malinin, the group's drummer since A Boy Named Goo, released in 1995.While it always good for a band to evolve and change their style, on "Rebel Beat" the attempt doesn't turn out well.The song lacks originality, and the dubbed vocals get repetitive after the first run through.Lead vocalist and front man John Rzeznik also sounds bored, lacking the passion he has displayed on previous records.
While this record is not the band's best effort it does have some decent songs. "Slow It Down", is a reminder as to why the Goo Goo Dolls have stuck around this long, but also what makes them so appealing. Rezeznik is a master at crafting a catchy chorus that surrounds the listener with a wave of sound with acoustic guitar licks that stay with the listener after the song ends. His rough, but soulful voice is still utilized, and newcomers to the Goo Goo Dolls music are given a taste at how the band used to be."Come To Me" has a country edge, and is a welcome break from the album's first four songs. Turning down the album's pulse, this slow tune speaks about being faithful in a relationship, and does what the Goo Goo Dolls do best- slow ballads that tell a story.
However, the good tunes don't last long. On "More of You" fans will notice just how far both John Rzeznik and bassist Robby Takac have strayed from the music they started out playing, which was punk rock, to the pop band they are today.This particular track seems to say "we decided to write whatever comes out and put it on the record." One of the Goo Goo Dolls worst songs to date, it sounds uninspired and its only use is to provide filler for the album.
Lastly, we get two songs by Robby Takac ("Bringing on the Light" and "Happiest of Days.") Known on the earlier albums for writing songs more suited for their punk rock days by writing songs that are fast and to the point, on Magnetic Robby has done a poor job. His vocals are still noticeably poor and not up to par with John's, and his new songs don't have the same gritty musical quality as his past ones do. His vocals seem to drag, ultimately making both tunes unlistenable.
Throughout their history, the Goo Goo Dolls have recorded some memorable albums such Dizzy Up the Girl and A Boy Named Goo, which introduced the band as more than just a radio band. However, Magnetic does not reflect this.Dry, boring, and lacking of substance, Magnetic will not be finding a permanent place in my record collection.