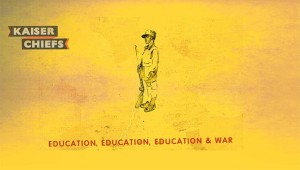 The Kaiser Chiefs have always released solid albums with a lot to offer and it looked like the band would keep up the great music that they have released previously on their latest effort Education, Education, Education, & War. While the British band has always had musically pleasing albums in the past, Education doesn't offer any hits, and as a whole the record feels rushed and poorly written. Members Simon Rix (bass), Nick Bains (keyboards) and former drummer Nick Hodgson met in school when they were eleven years old. In 1996, Simon and Nick Baines went to university while Nick Hodgson stayed in the bands hometown of Leeds where he met future band mates Ricky Wilson (vocals) and Andrew White (guitar.) The band named themselves Runston Parva, but failed to secure a record deal. They renamed themselves Parva and signed a deal with Mantra Records, recording an album called 22 featuring three singles. After the label folded, the bands new goal was to shoot for a longer contract with a new name, The Kaiser Chiefs, a new spelling of Kaizer Chiefs, a South African football team. The group would go on to release five albums, Employment (2004), Yours Truly, Angry Mob (2007), Off With Their Heads (2008), The Future Is Medevil (2010), and Souvenir (2012.)
While the band has had hits such as "Ruby" on Yours Truly, Angry Mob with a slick and polished sound, Education, Education, Education, & War has none of those traits. The albums first flaw is the loss of Nick Hodgson, who was the group's main lyricist. Adding new drummer Vijay Mistry to the mix, the album lacks direction with a muddy and unhappy sound with the albums lyrics not doing much for the songs since they sound like no effort was put into writing them. Tracks like "Misery Company" try to sound like an in your face rock tune with its tight bass lines and bouncy drum beat, but the track ends up sounding pretty repetitive with the exception of the roaring guitar riff that breaks up the songs monotony. The records first single "Coming Home" is something different for The Kaiser Chiefs. Sounding more soft rock than a full on ballad, the song doesn't get you excited for the rest of Education… and if nothing else it will lead listeners to lose interest in exploring the bands new music further, which is something a good single should do.  "Bows and Arrows" is the closest thing fans will get to the bands previous albums. The best part about the song is the drums as it will make fans reminisce about their old tunes, and as we listen to the rest of the songs, we keep wishing that the bands past would come back again.
While every band has the right to do something out of character when it comes to creativity and their music, the Kaiser Chiefs have lost their way and their latest album misses the mark in writing great rock songs.