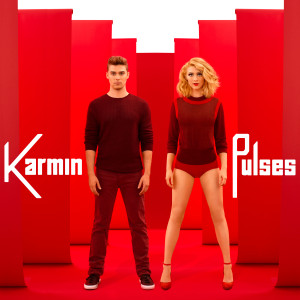 Pulses, the debut record from pop-hip hop duo Karmin is an album that will grab fans of those genres right from the start, though anyone who is just discovering the band will need to take some time to warm up to them since they appear to be having an identity crisis. While the genres of pop and hip hop are intermingled on Pulses, there are times when it is done brilliantly and other times where it seems to fall apart. Regardless, we see early on that the bands members Nick Noonan and Amy Heidemann have strong musical capabilities but that they are not living up to their full potential. Meeting in 2008 as students at the Berklee College of Music in Massachusetts, they gained exposure through YouTube where their videos achieved 200 million views. Releasing their first EP in 2010 called Inside Out, they have released three EP's including The Winslow Sessions (2011), Karmin Covers Vol 1 (2011) and Hello in 2012. While Pulses is largely the same style as Hello, the most noticeable difference is that Nick Noonan takes over the lead vocals in some of the songs, making the band's music appealing to those who might quickly write off the band's music as Nicki Minaj inspired drivel.
The album opens with a forty second introduction called "Geronimo", which ultimately serves no purpose in setting up the records style. Why the band decided to include it remains a mystery. "Pulses" the first full song on the album introduces us to their hip hop influences with member Amy Heidmann rapping like she is the next Nicki Minaj, resulting in a lack of flow and style as she rhymes her words. A positive aspect of the tune is that when she sings her vocals are strong, twisting and bending her voice so that her vocal power is known. Nick Noonan also sings beautifully with his smooth vocals that offsets the bands hip hop heavy tracks, and is a reminder that the band is still very much pop focused. "Accapella" is a song where the band goes entirely electronic in their style. Amy shows off her belting voice, though we also hear her chock up as she struggles on the "oh, oh, oh's" throughout the song, where she sounds more like a valley girl than the accomplished vocalist she is trying to sound like. As she goes from one phrase of the song to the next, she has a squeaky hiccup like delivery which sounds annoying and detracts from the songs potential.
"I Want It All" is a disco inspired tune that would be an excellent choice for a single as its catchiness will bring in music fans that wouldn't normally go for Karmin's style, as the band explores the possibilities of expanding their sound. While the tune is one of the strongest on the album, it seems to give off the impression that Karmin are struggling with a musical identity, leaving the listener asking "are they pop, hip hop, or disco?" The far reaching genre change doesn't give the album an even flow, but it feels like the bands hardcore fans won't care. "Neon Love" is a decent track, though once again we see Amy struggling to control her breathing, as her effort at belting is halted by the fact that she ends each line of the song with a squeaky burst of air that sounds awkward while also coming across as inexperienced.
Songs like "Drifter" and "Try Me On" blur hip hop and pop together with Amy's rapping, which by this point sounds horrid as nothing she rhymes sounds like any of the rappers she tries to imitate. With "Drifter's" schizophrenic drum beat pulsing through the song, the listener still can't make sense of the bands identity and or their preferred genre. While it's fine that they intersperse several genres in the beginning of the record, after a while it starts to sound stale. The albums closing track "What's In It For Me" is the album's worst song as they try to sound like some of rap's biggest names by making the rapping a central part of the song. While Top 40 fans will enjoy Karmin's brand of music, others may steer clear. Karmin is clearly making music for the moment, but for the future they may want to use Nick Noonan's vocals a lot of more if they want to have mass appeal.