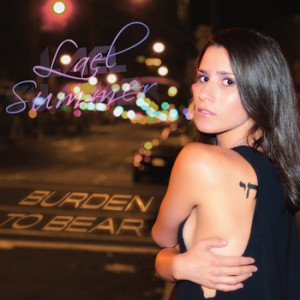 Lael Summer is a new pop, funk, and soul singer from New York City who puts a slight twist on music that was popular decades before her time. Currently a senior at the University of California's Popular Music program, she released her first EP last August that features four songs from her current full length album Burden To Bear. While she was raised in one of the biggest cities in the United States, she was heavily influenced by the city that never sleeps, leaving her feeling isolated and alone in a sea of people. Due to this isolation, Lael realized that you had to grow up quickly. Lael has a very mature presence on Burden…, making her sound wise beyond her years. While funk music is associated with the 50's and 60's, the songs featured on Burden To Bear sound like they are recorded by someone who is much older and not by a senior in college. Her musical training began early at the age of two, when she memorized the words to the entire Sound of Music soundtrack. By age ten, she began vocal training and performing in front of an audience, eventually bringing an entire crowd to tears with her rendition of Christina Aguilera's emotional song "Beautiful" during a showcase.
The records first song "I Need A Man" is a funky track that displays the depth and beauty of Lael's incredible voice. The overdubbed vocals add a spicy feel, with the horns giving the song a nice punch. When you listen to the track, you get the sense that Lael has prepared a long time for this album and its release as it comes off as professional and carefully orchestrated. The song is a great opener for Burden To Bear since it gets her audience excited for the rest of the album. The closest vocal comparison that one could give Lael is that of Sharon Jones, lead singer of the funk powerhouse The Dap Kings. While Jones has years of professional experience on Lael, Lael sings with complete confidence, and her songs are strong while also staying true to the genres that she sings.
"It's About Soul" is another upbeat track that pays tribute to the genre's ancestors and shows that Lael has it, that certain something that makes people stop and listen. As we picture Lael grooving to the tight soul beat behind her, her audience won't be able to stop their heads from bobbing and singing along with her easygoing vocals. Her cover of the Hall and Oates tune "Do What You Want, Be Who You Are" is a great cover that will introduce even more fans to the famous pop act, as they have experienced a resurgence with younger music fans in the past several years. The last song on the album titled "The Good Fight" is about persevering in the face of hard times, shows that Lael is not willing to give up her dreams of musical stardom easily. While a music career is certainly a tough (and long) road, Lael certainly has the chops to find success even if it takes her years to find it. The song has a slight country bent to it with its guitar lines, conveying the emotional content of the song well. After giving the record a full listen, there are no stumbles on Burden To Bear and the strong introduction to Lael and her voice makes her one of music's best undiscovered artists.