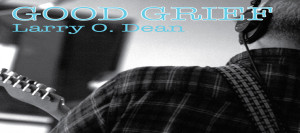 Chicago singer-songwriter Larry O. Dean has lived a colorful life as a writer focusing on various jobs which include working with Academy Award winner Michael Moore, publishing essays and reviews on pop culture, spending time as an adjunct English teacher, and participating in the Hands on Stanza's program through the Poetry Center of Chicago, as a poet-in-residence. Alongside these more scholastic writing pursuits, he has also focused much of his time on composing songs, and on his latest album Good Grief, we see just how good Dean's writing is while using music as a backdrop.
The record opens with "Didn't See It Coming", a soft tune with Dean's dry vocals as the centerpiece for the song, blanketed by an electric guitar and a piano playing quietly in the background gives the song a variety that we instantly love, adding color to a track that would sound bland otherwise. While one would not call Dean's vocals expressive, they fit the style of music that he is making, as we feel that his main purpose is to tell a story.
Good Grief's sixth song titled "Do Not Follow," is another saucy cut that picks up the pace slightly, featuring a female vocalist in the chorus that adds to the tunes polished feel. Full of life, the song is an easy one to listen to as we are immersed in both Larry's songwriting and guitar skills, which has an ease and comfort that gives off an inviting feeling.
To close out Grief, "Americans For Prosperity" is a track that feels good with a punch that urges us to get up and dance, certainly something that the record allows its audience to do. While we would like to see Dean push the envelope a little bit more when it comes to getting a heavier guitar sound, as it may add a little bit more flavor to his songs, the tracks on Good Grief tell an interesting tale and is one that we can't recommend more.
Good Grief will be released on September 25th.