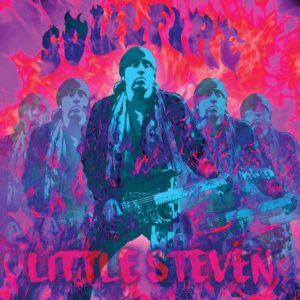 Best known for his role in Bruce Springsteen's E Street Band, guitarist Steven Van Zandt has released his eighth solo album Soulfire, a record that allows Van Zandt, who is known professionally as Little Steven, to let loose and take center stage. Since joining the E Street Band in 1975 as a guitarist and mandolin player, Little Steven has taken on a role as second guitarist in the group, and while his musical abilities are recognized, on Soulfire everything comes from him, and while the record is good reminder of why they love Bruce Springsteen and his talented backing band, new fans are introduced to Little Steven and his larger than life musical style on an individual level.
Opening with the title track, Little Steven introduces percussion, red hot guitar licks, and horns which make a healthy appearance throughout the album. Demonstrating his years of playing live, "Soulfire's" big sound encapsulates Van Zandt and his decades of experience. It's clear he's loving these new tunes and there is no question that fans will too.
"Love on The Wrong Side of Town" is another grandiose track that employs a big sound that only seasoned musicians can pull off. With a massive rock and roll sound, "Love…" pulls out all the stops from what fans expect from a member of the E Street Band. Not only is the song huge in sound, but it's also big in heart, reminding fans with Van Zandt is a gifted musician.
"The City Weeps Tonight" and "Down and Out In New York City" are perhaps to the songs that stand out the most stylistically on Soulfire. Bringing things down a notch, "The City…" feels like it was written to turn down the machine that Van Zandt employs to bring the rock sound we hear on the record, while "Down…" introduces a jazzy feel to Soulfire. While horns aren't a part of the song, its smooth vibe will quickly become a favorite, though we wish it wasn't buried near the end of the LP.
"Ride the Night Away," closes out Soulfire's run time at almost an hour. While it might seem a bit long to those who are fully immersed in Van Zandt's previous material, the LP has plenty of oomph throughout to woo new fans and grab hold of old listeners waiting for new music. Van Zandt does an excellent job at entertaining both groups as we wait for his next body of work to drop.
Listen to "Soulfire" below.