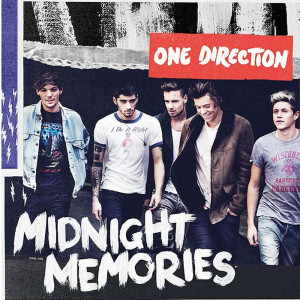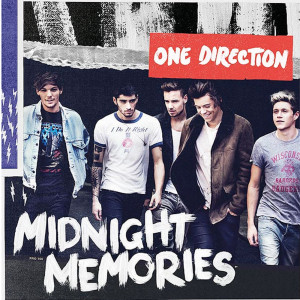 One Direction's latest album Midnight Memories is a step further in maturity for the English-Irish boy band who was formed on the X Factor UK television show in 2010. Members Harry Styles, Liam Payne, Louis Tomlinson, Niall Horan, and Zayn Malik all auditioned as solo artists, and while all of the members made it through the first auditions, none of them succeeded on their own. It was decided by judge Simon Cowell to put all five members into a group. By the end of the show One Direction had come in third place. While the group didn't win, they came away with a large group of fiercely dedicated fans throughout the UK. Their first single "What Makes You Beautiful" from their first album Up All Night released in 2010, was an instant hit, going to number 1 in America and around the world, a feat not even The Beatles had achieved.  To keep the fire going, the band soon began work on their second album Take Me Home released in 2012. This album was also enormously successful with singles "Live While We're Young" and Little Things." While both albums were fun pop records with catchy songs that showed that the band could sing, neither album set the group up for a long career.
However, on One Direction's latest album Midnight Memories there is a strong possibility that One Direction may be around longer than expected. Even though the band has been around for only three short years, this new album is a critical point for One Direction and their future. In order to keep their success going, the band has to evolve in sound. Thankfully, Midnight Memories is all that the band promised their fans. The album is edgier, more guitar driven, and has tributes to old rock and roll spread throughout the album. Another big change is that each member has taken part in the songwriting, with Louis Tomlinson and Liam Payne taking most of the credit, as well as Niall playing guitar on many of the songs. The album's first track "Best Song Ever" was featured in the band's 3D documentary This Is Us earlier this year. The song is the album's bounciest song, and is a reminder of where the band has been and where they are going. While the song puts a lot of emphasis on the guitar with a rift very similar to The Who's "Baba O'Riley", the lyrics still sound juvenile. As the band sings about staying up all night with a girl dancing to the "best song ever", we are reminded that One Direction are very much still marketed to teens, even though all of the members are in their early 20's (except for Harry who is 19.) Outside of "Best Song Ever" the album changes the direction to a more grown up vibe. Ballads such as "You and I" can only be described as beautiful. Singing over a light acoustic guitar, the band sings about staying in a relationship no matter what the costs, with lyrics such as "nothing can come between you and I, not even the gods above can separate the two of us." The highlight of the song is Zayn Malik's falsetto towards the end of the track, putting to rest that the band can't sing a note. "You And I" shows that the each member of the group has a shot at solo success, with Zayn sounding like he could be the next Justin Timberlake.  
"Happily" written by Harry, has a feel that is reminiscent of folk band The Lumineers, bringing to the forefront the band's individual musical tastes, giving the record a more authentic feel. "Diana" which has a sound that will remind older fans of bands like The Police. With lyrics that reach out to fans going through hard times, ("you've been lonely, you don't even know me, but I can feel you crying") the song has already hit a deep chord with fans, causing the song to go to number 1 in 96 countries. Songs like "Midnight Memories" and "Little Black Dress" bring the bands love of Def Leopard and possibly The Clash to the forefront as rock and roll kicks into high gear. "Midnight Memories" was the first song written for the album, and it has an on the road feel as it talks about the bands breathless schedule with Harry singing "straight off the plane to a new hotel, just touched down you would never tell." The song's main guitar riff played by Niall is a convincing one as he is a decent guitarist, giving off the impression that he feels more at home singing with a guitar in his hands then as a standalone vocalist. The songs punchy feel will please hard rock fans with its gritty edge and rock and roll tone. "Little Black Dress" begins with a riff that sounds eerily like The Clash tune "The Right Profile", though this comparison won't bring about any claims of copyright infringement.
As a whole Midnight Memories is the one of the catchiest records you will hear all year. With all that said, I am a big fan of One Direction and so my review might seem to a bit bias. However, I have looked at the record objectively and I really feel like Midnight Memories is a great record. The nice thing about it is that each song can stand on its own. As individual tracks and as a whole album, Midnight Memories is a real winner for One Direction. With their more mature sound they are well on their way to successfully shedding their image as a teen boy band that didn't seem capable of evolving their sound. The band will be supporting Midnight Memories on their worldwide 2014 stadium tour beginning in May in Europe and hitting North America in October.