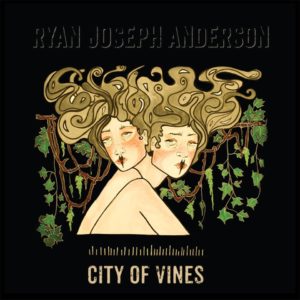 Following up his 2014 debut LP The Weaver's Broom, Chicago singer-songwriter Ryan Joseph Anderson is back with City of Vines, a record full of irresistible Americana songs with country influences and tones weaved throughout. Opening with "Molly the Flood," Anderson sucks listeners in with an easygoing tune that shows off his inviting style that captivates listeners from start to finish. His guitar abilities take center stage too, as his warm riffs add plenty of flavor to the track without overdoing things.
Tracks such as "16 Lovers" come into the record about half way through as the LP's fifth song. A slower ballad, we get to hear Anderson's more tender side of his songwriting, channeling musicians such as Tom Petty on this number with an old-fashioned rock vibe, letting his audience slow down and enjoy Anderson's talents. The record's next cut "Tooth and Tongue" introduces a bit more funkiness to City of Vines with a danceable bass line and drum beat that carries the song perfectly.
Closing with a slower track titled "July," Anderson has dropped a record full of tasteful songs, while experimenting with other genres to flesh out the record's beautiful style, creating something enjoyable for everyone listening, no matter where their preferences lie. While Anderson might be performing in a small music scene, City of Vines establishes that he is ready to take on the world, one city at a time.
Listen to "Molly The Flood" below.