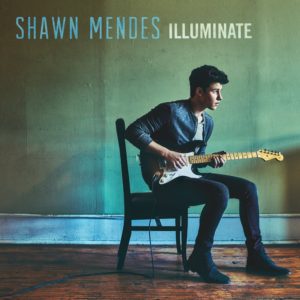 Opening with a John Mayer influenced riff on his new record Illuminate, Canadian musician Shawn Mendes sings about ruining a girl's happiness, with a new passion that we've never heard from him before. From the first notes of his second LP, we sense that Mendes has turned a new corner. Getting his start on Vine by releasing six-second covers of popular songs in 2013, the Pickering, Ontario native knew he had to do something different to stand out. After getting his first guitar at 14, he claims that singing came out of nowhere. Once he realized he had an untapped talent, he took his skills to social media where he would gain a following of thousands.
The following year, he attracted the attention of Island Records and manager Andrew Gertler and was signed to the label. Compared to his hero Ed Sheeran, and now John Mayer, Mendes does an excellent job at writing raw and memorable tracks that stick with his audience. With Mendes turning 18 last month, Illuminate feels more mature than his debut Handwritten, which came out in 2015.
Then just 16, Mendes was writing songs more fit for high schoolers then adults, however that didn't stop older music fans from listening and getting as wrapped up in the music as the teenagers he was attracting. While Mendes' younger fans will be singing along passionately to the lyrics of "Ruin," adults will as well, allowing Mendes to crossover into becoming a successful artist that can have his foot in both markets.
Songs such as "Treat You Better," was the first introduction that fans received when Mendes announced the release of Illuminate. Releasing a mostly acoustic album with Handwritten, "Treat You Better" introduces an electric guitar along with a full band, which is utilized fully on this record, making each song sound powerful and defined. Everything sounds sharper and edgier, employing a John Mayer bent throughout, though Mendes strongly maintains his own style.
"Three Empty Words," perhaps the strongest song lyrically on Illuminate, demonstrates that Mendes is blossoming into a songwriter that is confident in his writing abilities. Beautiful and simple, "Words" displays what fans love about him. He says what's on their minds and puts it exactly into their words. While he is on a rock and roll platform, Mendes has always come across as a normal, average kid and he continues this streak now, only with an older maturity.
Over halfway through Illuminate, Mendes' gives us "Lights On," which intertwines riffs that sound reminiscent of his song "Kid in Love" off of his debut. While the songs sexual tones never could have passed on Handwritten, he proves that two years makes all the difference for discussing more mature topics as he grows up in front of the public. While this track still might not be appropriate for the really young Mendes fans, older teenage listeners will eat it up as they grow up alongside their idol.
Closing Illuminate is a track titled "Understand," a piano ballad which talks about getting older, while also included a spoken word monologue about the subject. Once again, Mendes comes across as real, just as he has done all along. Starting the first chapter of adulthood is something that Mendes will do well, as long as he has his guitar and a notepad by his side to guide him.
Watch the music video for "Treat You Better" below.