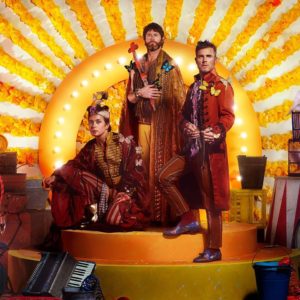 Every time Take That releases a new record, it always manages to be big, however it seems on their album Wonderland, they seem to have missed the mark. After breaking up in 1996, and ending their career as Britain's biggest boy band, the group came back together in 2005 to stage a comeback that reinserted them in to the musical landscape of England. Known for their catchy dance pop tunes which were immensely popular among teenage girls in the 90's, the new music released after their return felt much older and had the ability to appeal to everyone listening. Since then, Take That are now considered one of the most successful bands in British music history.
On Wonderland, we get the same great vocals from members Mark Owen, Howard Donald, and front man Gary Barlow, though throughout the record, there is not a song that stands out. Opening with the title track, "Wonderland" is a warm and bouncy tune that talks about the positive effects of music and feeling the rhythm as one dances, transporting the listener to a place where nothing seems to matter except for what's coming through the headphones. While the song is a catchy one, it's not a strong opener as we've heard on the trio's past records.
Moving on to the LP's lead single "Giants," the song makes listeners feel underwhelmed, though it may give Take That some much needed (and long-awaited) success in America, as the trio recently performed "Giants" on The Late Late Show with James Corden.
"Lucky Stars" takes thing back a bit, adding a bit of a disco sound into the song, with a bass line that is the highlight. Reminding listeners of the group's single "These Days" on their last album III, the song will do well as a single if it is chosen. Perfect for the casual fan, this is the song that will bring the band back into the minds of listeners who may not be fully aware that Take That is back.
"The River" sees member Mark Owen take over lead vocals, something that he has been successful at since Take That's formation. While his voice is not as strong as his colleagues, his vocals always sounds great against a pulsing beat.
"It's All for You" is a piano ballad that highlights Barlow's strength and talent as a pianist and songwriter. Showing off his musical skills on Broadway in musicals such as The Girls, and Finding Neverland, Wonderland is not his strongest work as a musician, though there is still no doubt that he is still brilliant at what he does, regardless of whether he is a solo artist or performing with other musicians.
Listen to "Lucky Stars" below.