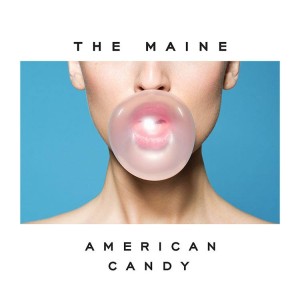 For eight years, The Maine have always done an excellent job at evolving their music and making each album they release fully distinctive. Forming in 2007 in Tempe, Arizona while several of the members were still in high school, the band released two EP's and built a following on Myspace before recording their debut album Can't Stop, Won't Stop in 2008. Full length albums Black and White (2010), Pioneer (2011), and Forever Halloween in 2013 followed. While the band cut ties with their record label in 2011, the band is still continuing their independent streak by writing and recording their music all on their own. While Forever Halloween was recorded entirely on tape, along with having a darker tone and lyrical themes, American Candy, the group's latest album has the bounce that was absent from their last record, bringing The Maine back to test their pop punk roots that made their fans latch onto them in the first place.
The album opens with the records second single "Miles Away" with the type of radio catchiness that fans were seeking on Forever Halloween, as the band has written a song that is irresistibly catching, and as front man John O'Callaghan sings about being miles away as he searches for the best getaway, we wish that The Maine were more well known, as they are a band that achieves the rare feat of writing a song that has the elements of a well written track without adding the bells and whistles of modern day production. "English Girls" is up next, and again, we hear the sound we have been missing for several years. Along with having a great sense of melody, O'Callaghan writes lyrics that flow well as he tells a story about life on the road, making the music feel more real to fans. By letting fans in, The Maine's songs become more like old friends, and not something to be forgotten once the next band comes along.
"24 Floors" is an acoustic track that brings back the eeriness of Halloween without sounding to bland. While The Maine have written more fuller sounding ballads on past records, "24 Floors" has a beautiful simplicity that makes fans really appreciate The Maine's artistry and their musical talents. "(Un) Lost" is a solid tune that brings out the more experimental side of the group, as this song brings all four of their previous releases together, to really illustrate how far The Maine have come in only eight years time. American Candy ends with "Another Night On Mars" a tune that is a great ending to an album that ends far too soon. While the group introduces a piano into their music, the chorus is the main element of the song that really grabs you. It's one of those kinds of chorus's that will get stuck in your head until you no longer want it to be there.
Candy is a gem of a record, and it was released at the right time, as it feels like the most grownup record The Maine have recorded and as they continue to grow as people and as a band, we can only expect the band to evolve and change their sound even more, as their ideas feel endless, and their songs only get better as the years pass.